a
Naval Forces News - Russia
Russian Navy Oscar II Submarine Orel to be Launched in May Following Repairs
The Russian Northern Fleet's Project 949A Antey-class nuclear-powered cruise missile submarine (SSGN) K-266 Orel (NATO reporting name: Oscar II-class), which suffered fire in a dock of the Zvyozdochka Shipyard in Severodvinsk last April, will be set afloat in May, Zvyozdochka's spokesman, Yevgeny Gladyshev, told TASS on Tuesday.

"The Orel will be launched in early May, though the date was initially set for April. A minor delay will not affect the delivery date. The ship will be delivered in late 2016 as per contract and will depart for its home station on December 31," he said.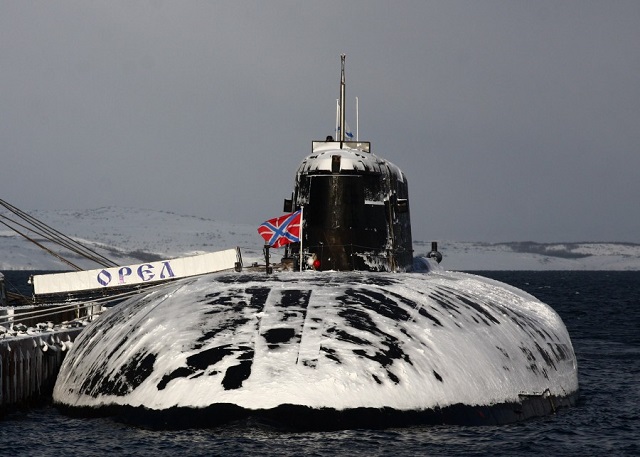 Russian Navy Northern Fleet Orel (K-266) SSGN (NATO designation: Oscar II)

The fire was caused by a safety rules violation in the course of hot work onboard the submarine. The rubber insulation at the stern between her hulls caught fire. All those onboard - workers and the crew - quickly and smoothly abandoned the nuclear-powered boat, having suffered no casualties. The nuclear fuel was unloaded from the reactors, while no ammunition load, petroleum, oil and lubricants had been loaded yet.

The K-266 Orel nuclear attack submarine of the Russian Navy's Northern Fleet was docked at Zvyozdochka for repairs in April 2014. Once the yard repair has been performed, her service life will be extended by three years and a half. The Oryol was built by the Sevmash Shipyard in Severodvinsk and commissioned by the Russian Navy on February 5, 1993.

The Project 949A nuclear-powered submarine has a length of 155 meters, a displacement of 24,000 tons, a depth of submersion of 600 meters and an underwater speed of 32 knots. Its crew totals 107. The Project 949A nuclear-powered submarine is armed with six torpedo tubes and 24 launchers to fire Granit cruise missiles with a range of about 500 kilometers (311 miles).

© Copyright 2015 TASS. All rights reserved. This material may not be published, broadcast, rewritten or redistributed.