a
Naval Forces News - France, USA
French Navy, US Marines in Amphibious Exercise in Djibouti with Mistral class and LCAT
In late March 2016, the French Navy (Marine Nationale), the French forces based in Djibouti (FFDJ) and U.S. Marines units conducted a combined amphibious exercise named WAKRI 16. The exercise simulated the evacuation of nationals of a fictitious country following infiltration by separatist militias.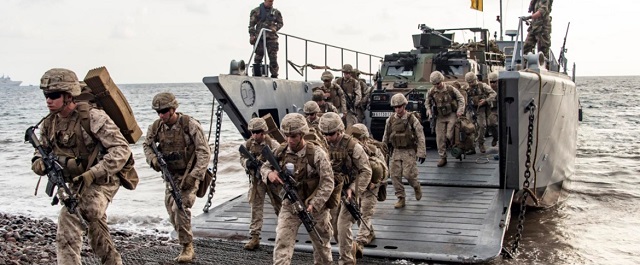 US Marines getting off a French Navy LCU. Picture: French Navy

The exercise involved several assets including
Mistral-class LHD
Tonnerre of the French Navy as well as the
LCAT landing catamaran
(designated EDAR in the French Navy).
US Marines and French Army soldiers were aboard the Tonnerre for the exercise. In total 370 men and close to 100 vehicles were deployed from the amphibious vessel thanks to the sea to shore connectors. The operation was commanded from the Tonnerre.
This tri-dimensional exercise (land-air-sea), both joint and combined helped to strengthen and maintain the French Navy ability to operate with FFDJ and American Forces.The organization of this exercise in Djibouti, where French and American forces are currently based allows to further enhance the interoperability between the two countries.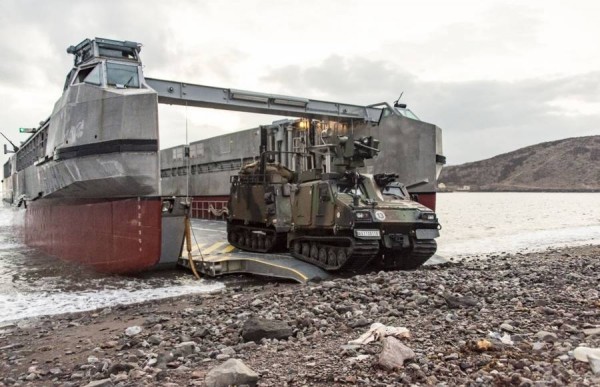 A French Army VHM (BAE Systems BvS 10) disembarking from an LCAT. Picture: French Navy

Designed by DCNS,
Mistral BPC
(Bâtiment de Projection et de Commandment) LHD is a multi-mission 21,500t amphibious assault, command and power projection ship. Mistral-class vessels are capable to accommodate and deploy 16 transport or attack helicopters, four landing crafts, up to 70 vehicles or 13 main battle tanks. They have accommodations for 450 to 700 troops. Each ship of the class is equipped with a 69-bed hospital.
Designed by CNIM, the
L-CAT (landing catamaran)
is intended for "shore to shore" applications or for amphibious operations from LHD and LPD type amphibious craft. Since 2011, the L-CAT has been commissioned into the French Navy under the name EDA-R (Engin de Débarquement Amphibie Rapide—rapid amphibious landing craft).