a
Naval Forces News - Vietnam
Vietnam Launched Two Project 12418 Tarantul-class Corvettes Produced Under Licence
Vietnamese shipyard Ba Son has launched two Russian-designed Project 12418 Molniya-class (NATO reporting name: Tarantul-class) guided missile corvettes built for the Vietnamese Navy under licence. Vietnamese Deputy Defense Minister Truong Quang Khanh, Ho Chi Minh City Communist Party Committee Secretary Dinh La Thang and Russian Consul General Alexei Popov have attended the ceremony in the southern Vietnamese city of Ho Chi Minh.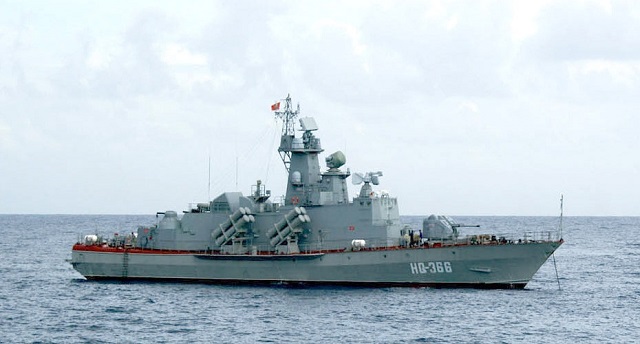 Vietnames People's Navy Project 1241.8 Tarantul V missile corvette
"The delivery of the Molniya boats has become a milestone in the modernization of the Vietnamese Navy tasked with reliable defense of the islands and the sovereignty of the nation at sea," the Vietnamese deputy defense minister stated during the ceremony. By building Molniya boats, the Ba Son General Shipbuilding Company makes an important contribution to the defense of the maritime border of the Socialist Republic of Vietnam, Truong Quang Khanh said.

The Vietnamese Navy has been receiving Molniya-class missile corvettes under the contract Russia and Vietnam signed in 2003. Under the deal, two corvettes from the Almaz Marine Design Bureau in St. Petersburg were to be built in Russia while the remaining six to 10 ships carrying the Uran-E missile system are to be licence-produced in Vietnam. One Russian-made Molniya was delivered in 2007 and the other in 2008. The first corvette, laid down at the Ba Son Shipyard in 2010, kicked off the implementation of the licence production segment of the contract. Four Molniya-class corvettes have been built by Vietnam to date.

Russia is Vietnam's long-time partner in military-technical cooperation. In recent years, the countries have signed contracts for sophisticated Russian weaponry worth a total of $4.5 billion or more. The most significant of them are the $1-billion deal for Sukhoi Su-30MK2 (Flanker-G) multirole fighters and the agreement on six Project 636.1 Varshavyanka-class (Improved Kilo-class) submarines worth around $2 billion. The Vietnamese Navy has taken delivery of as many as five of the submarines ordered. The final one shall have been delivered this year.

© Copyright 2015 TASS. All rights reserved. This material may not be published, broadcast, rewritten or redistributed.