a
Naval Forces News - USA
U.S. Navy Completes V-22 Osprey Fleet Battle Experiment with USS Carl Vinson
By Mass Communication Specialist 2nd Class Kristina Young, USS Carl Vinson (CVN 70) Public Affairs
Aircraft carrier USS Carl Vinson (CVN 70) completed a Fleet Battle Experiment (FBE) for the future Navy variant CMV-22B Osprey. Commander, Naval Air Forces conducted the FBE, July 22 through Aug. 4. The experiment explored, analyzed and documented the characteristics of operating a detachment of MV-22s for the carrier strike group as a replacement for the Navy's C-2A Greyhound carrier on-board delivery (COD) platform.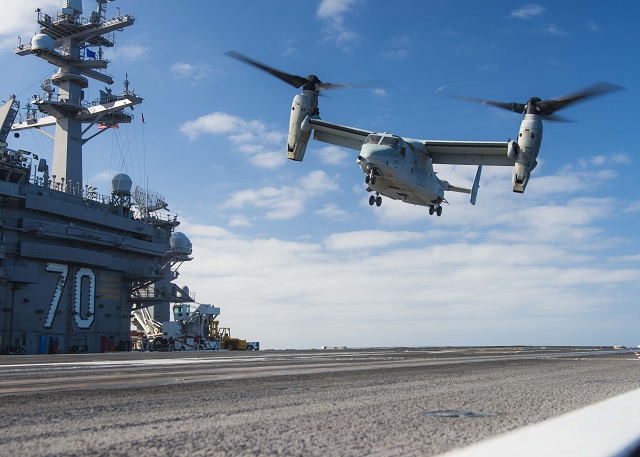 PACIFIC OCEAN (June 12, 2016) A MV-22B Osprey, from Marine Operational Test and Evaluation Squadron 1, lands on the flight deck of the aircraft carrier USS Carl Vinson (CVN 70). The V-22 Osprey is being tested, evaluated and is slated to be the replacement for the C-2A Greyhound as the singular logistics platform on an aircraft carrier for future carrier on-board delivery operations. (U.S. Navy photo by Mass Communication Specialist 3rd Class Matthew Brown/Released)

"We look forward to the flexibility the CMV-22B will bring the carrier strike group," said Vice Adm. Mike Shoemaker, commander, Naval Air Forces. "The analysis and conclusions from this experiment will inform future concept of operations and how we will employ this aircraft and integrate it within the carrier air wing."

During the FBE, 34,590 pounds of cargo and 563 passengers were transported to and from the ship via the MV-22B Ospreys. One notable advantage of the V-22 as the carrier on-board delivery platform is its ability to deliver logistic support to the carrier at night.

"Overall, it was a successful evaluation," said Cmdr. Lucas Kadar, Carl Vinson's air boss. "The Ospreys were able to integrate into the carrier environment seamlessly. It gives us a lot of options, a lot of flexibility, in the sense that we can recover it more as a helicopter or sometimes we can treat it more like a fixed wing aircraft."

Future CMV-22B detachments will capitalize and build on the flexibility, mobility, responsiveness, and independence of today's C-2A Greyhound detachments.

"I believe there's a lot of value added by having this aircraft on board the ship," said Kadar. "For being in the initial stages of evaluating the suitability of the V-22 to conduct the carrier on-board delivery mission, it went surprisingly well."

"The Ospreys bring the best of both worlds as far as the platform types go," added Kadar. "I look forward to seeing how the program continues to progress."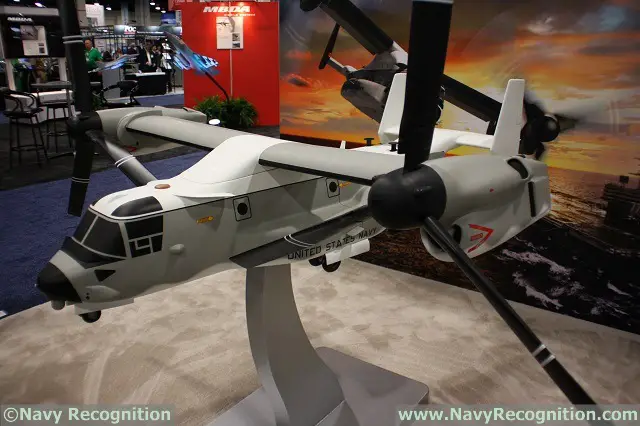 CMV-22B Osprey model in US Navy colors on display at the Bell booth during Sea Air Space 2015

Comments by Navy Recognition
The fact that the CMV-22B will offer more flexibility than the C-2 is not surprising.
The CMV-22B should have larger external sponsons to fit more fuel inside. This would be the only physical difference with legacy V-22. Currently, the U.S. Navy has planned for a total of 44 CMV-22B aircraft to be purchased. Production is expected to begin in fiscal 2018 and deliveries of the aircraft will begin in 2020.

The main mission of the COD platform is to provide the Joint Force Maritime Component Commander with time-critical, long-range aerial logistics support by transporting personnel, mail and priority cargo from advance bases to the sea base. The CMV-22B will be the same as the MV-22B with three additions. It will include an extended-range fuel system, a high-frequency radio and a public address system.

The Osprey secondary Navy missions should include:
- Personnel recovery (including SAR)
- Special warfare (with US Navy Seals)