a
Naval Forces News - Russia
Video: 2 Project 21631 Buyan-M Class Corvettes Launched Kalibr Missiles to Strike Targets in Syria
Russia's Black Sea Fleet Project 21631 Buyan-M-class small missile ships (corvettes) Serpukhov and Zelyony Dol have fired three Kalibr-NK (SS-N-27 Sizzler) subsonic cruise missiles to strike land targets of the Jabhat al-Nusra terroristic grouping in Syria, according to the press department of Russia`s Ministry of Defense (MoD).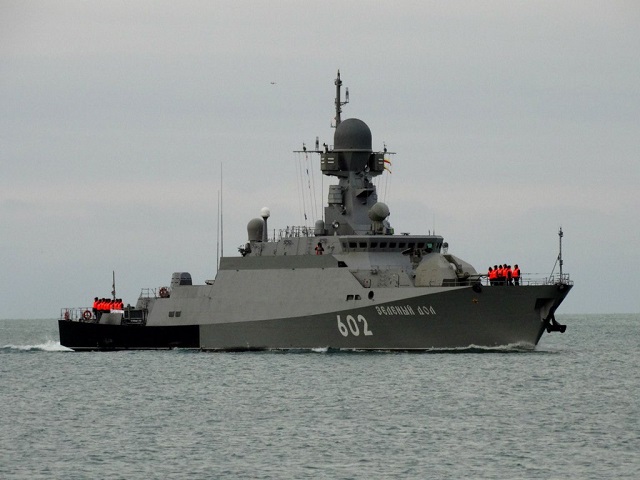 Project 21631 Buyan-M-class small missile ship (corvette) Zelyony Dol (hull number 602)

"The missiles [fired by the ships] destroyed a command post and a base of the terrorists in the vicinities of Dar-Taaza city, as well as a mortar shells production facility and a large munitions store in Aleppo province. In accordance with the intelligence data provided by the objective controls means, the targeted objects have been destroyed," a spokesperson for the MoD said. "To ensure the safety of the local residents, the missiles passage corridor went over desolate locations," the official added.
Russian MoD Video: Project 21631 Buyan-M-class small missile ships (corvette) launching Kalibr cruise missiles from Mediterranean Sea against Jabhat al-Nusra facilities in Syria

Previuosly, the Russian Navy`s surface and underwater combatants fired 3M-14 Kalibr land-attack missiles to strike the facilities of the Jabhat al-Nusra and the Islamic State terroristic groupings (both forbidden in Russia) in Syria. Four ships of the Caspian Flotilla conducted the first strike on October 7, 2015, having launched 26 Kalibr-NK missiles against 11 objects. The aforementioned surface combatants launched 18 more 3M-14 land-attack missiles on November 20, 2015. On December 8, the Rostov-na-Donu Project 636.3 (Improved Kilo-class) diesel-electric submarine (SSK) fired four Kalibr-Pl land-attack missiles while staying submerged in the Mediterranean Sea.

© Copyright 2016 TASS. All rights reserved. This material may not be published, broadcast, rewritten or redistributed.