a
Naval Forces News - China
China's Defense Ministry Confirmed the Construction of an Aircraft Carrier Type 001A for PLAN
Yang Yujun, a Chinese Defense Ministry spokesperson, confirmed on December 31st that China is designing and building its second aircraft carrier "completely on its own" a the shipyard in Dalian in northeastern Liaoning Province. Yujun added explained during the last monthly press briefing of 2015 that this carrier, with a displacement of 50,000 tonnes, is designed to accommodate J-15 Flying Shark fighters and other types of aircraft.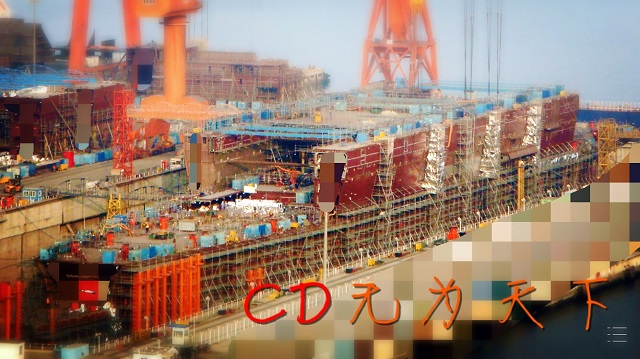 Latest spotter photo of Dalian shipyard (taken on December 31st 2015) showing construction of PLAN's second aircraft carrier, Type 001A.
The Chinese Defense Ministry spokesperson ended his comment on the new aircraft carrier by saying additional information will be released gradually as construction advances.

According to rumors, the new aircraft carrier is designated "Type 001A", and its design will be an improved variant of the Liaoning, China's current aircraft carrier which is a Soviet design built in Ukraine.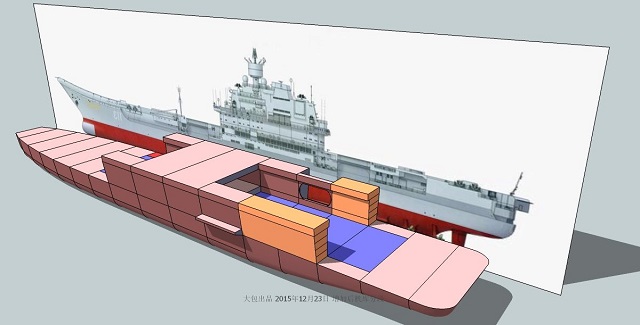 3D model showing the current advancement of construction (as of December 25th 2015)
"
This carrier will have different missions than those for the Liaoning (the country's first aircraft carrier),
" Senior Captain Zhang Junshe with the People's Liberation Army Naval Military Studies Research Institute told the official PLA Daily on Friday.
"We use the Liaoning to test the reliability and compatibility of systems on carriers, and to train personnel. The second carrier will mainly do what a genuine aircraft carrier is supposed to do: running combat patrols and delivering humanitarian aid."
Zhang said China urgently needs a second carrier, as the country is seeking to improve its defense systems and better safeguard national interests.
"The PLA needs at least three aircraft carriers. When it does, one can be on duty, one can train personnel, and the third can receive maintenance," he said.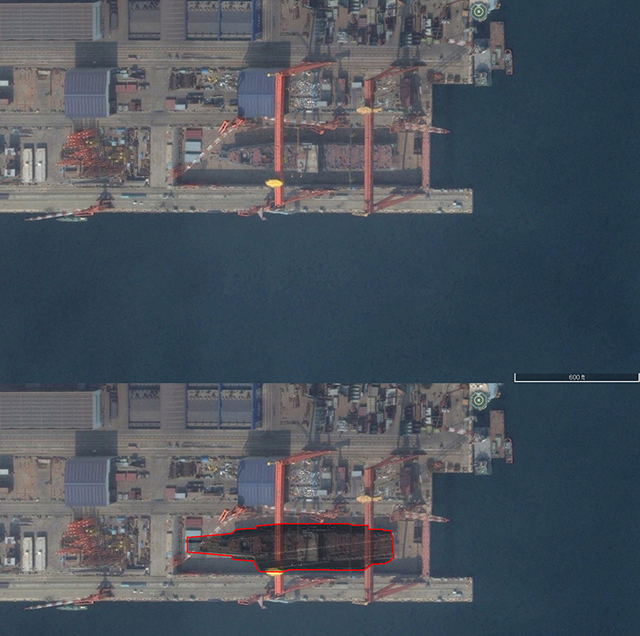 November 2015 satellite imagery showing Type 001A under construction at Dalian shipyard (top).
Liaoning hull shape (to scale) is superposed in red (bottom).
Rumors of an indigeneously built aircraft carrier started in 2015 as satellite imagery showing first large construction blocks, then the shape of the hull of a large vessel at Dalian shipyard started popping up.

Type 001A will feature a ski jump to launch its aircraft. Its propulsion system, electronic systems and weapons will all be developed in China and are expected to have better capabilities than those fitted on the Liaoning.

It is not clear yet when Type 001A will be launched in the water. Some sources argue it could happen as early as the Summer of 2016 while other say it will take longer.