a
Naval Defense Industry News - USA
UTC Aerospace Systems Delivers First Sonar Dome Rubber Window of New U.S. Navy Contract
UTC Aerospace Systems has delivered, on schedule and on budget, the first sonar dome rubber window to the U.S. Navy on a new five-year indefinite delivery, indefinite quantity contract. This delivery marks the 345th surface ship sonar dome rubber window delivered to support the Navy Fleet. UTC Aerospace Systems' Engineered Polymer Products (EPP) team in Jacksonville, Florida, has supplied sonar domes for FFG-7, DDG-51, and CG-47 class ships to the U.S. Navy and allied navies for more than 50 years. EPP is part of the Aerostructures business of UTC Aerospace Systems, a unit of United Technologies Corp.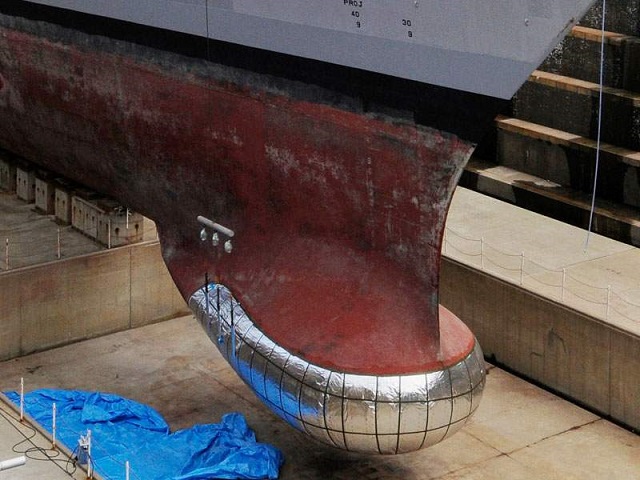 SQS-53 Sonar Dome on USS Shiloh (CG-67) (U.S. Navy photo by Mass Communication Specialist 3rd Class Bryan Reckard/Released)
The EPP team began its initial manufacture of the sonar dome rubber windows in 1964 out of its Akron, Ohio, facility. These sonar domes were shipped by C-5A military transport aircraft from Akron to Virginia, then barged to the different shipyards building the cruisers and destroyers for the U.S. Navy. EPP moved to its present Jacksonville location in 1987. Located on Blount Island, EPP is situated next to a deep water port, where ships and barges can dock to transport sonar domes for delivery to the shipyards, thus saving taxpayer money through lower shipping costs.

Mounted on the bow of destroyers and cruisers, a sonar dome rubber window is an acoustically transparent housing that surrounds the sonar transducer array, forming the sonar's sensor system. The dome protects the ship's sonar array, and offers minimum interference with the sound transmission and reception needed to enhance detection and classification of underwater targets. EPP pioneered the development of rubber wire-reinforced surface ship sonar domes for anti-submarine surface combatants. The rubber's unique energy absorption and reflection properties enhance the ship's detection capability.

Designed and built to last, EPP's sonar domes are one of the ship's most durable components, with a number of domes in service on U.S. Navy vessels more than 25 years old. "The drive for continuous improvement by our team at EPP and endless focus on improving our sonar systems technology, combined with the development of innovative processing techniques, uniquely positions us to offer superior acoustic technologies," said Marc Duvall, president, Aerostructures. "Our proven capabilities and outstanding focus on quality have assisted in our efforts to remain the exclusive supplier of the sonar dome rubber window in support of the U.S. Navy."

EPP also provides its customers with field services for the installation, inspection and repair of its sonar domes. With its staff of experienced engineers and technicians, EPP's field service professionals are available to be deployed around the world, 365 days a year, to ensure reliable quality performance.