a
Naval Forces News - USA
Video: USS Coronado (LCS 4) Launches Harpoon Anti-ship Missile for the 1st Time
USS Coronado (LCS 4), an Independence-class littoral combat ship, launched a Harpoon Block 1C anti-ship missile during RIMPAC 2016, the world's largest international maritime exercise current taking place off Hawai.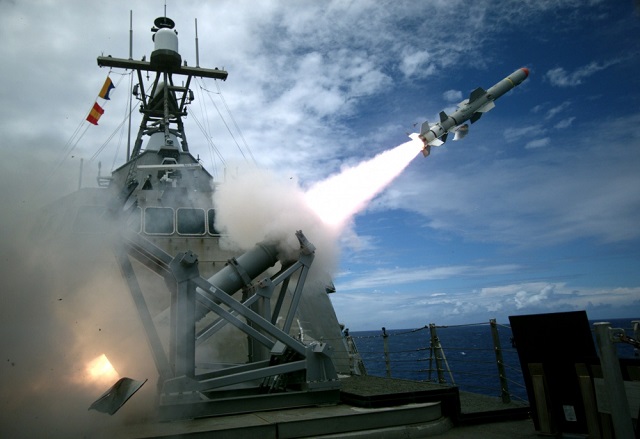 USS Coronado (LCS 4) launches the first over-the-horizon missile engagement using a Harpoon Block 1C missile. (U.S. Navy photo by Lt. Bryce Hadley/Released)

This launch marks the first time that the Boeing Harpoon anti-ship missile is launched from a Littoral Combat Ship.
The launch took place as part of a SINKEX (sinking exercise) in which the decommissioned Perry-class Frigate USS Crommelin (FFG 37) was used as a target and sunk. According to the US Navy, RIMPAC units, including the Royal Canadian Navy Halifax-class frigate Her Majesty's Canadian Ship Calgary (FF 335), Royal New Zealand Navy ship HMNZS Te Kaha (F77), littoral combat ship USS Coronado (LCS 4), and various aircraft from the U.S. and Australia gained proficiency in targeting and live firing at the surface target.
While the launch was successful, the missile failed to hit its target according to
Chris Cavas from Defensenews.
Video: 1st Harpoon launch from an LCS. (U.S. Navy video by Mass Communication Specialist 2nd Class Michaela Garrison/Released)

The Harpoon is an all-weather, over-the-horizon, anti-ship missile system, originally developed and manufactured by McDonnell Douglas (now Boeing Defense). More than 600 ships, 180 submarines, 12 different types of aircraft and land-based launch vehicles carry Harpoon missiles. Boeing has delivered more than 7,300 Harpoon and Harpoon Block II missiles to the U.S. Navy and more than 30 international military customers since the inaugural Harpoon contract was awarded by Naval Air Systems Command on June 21, 1971.

The Block 1C missile variant is designated RGM-84D in its surface launched variant. Block 1 uses a terminal attack mode that includes a pop-up to approximately 1,800 metres (5,900 ft) before diving on the target; Block 1B omits the terminal pop-up; and Block 1C provides a selectable terminal attack mode.

Harpoon is being tested aboard USS Coronado as part of Distributed Lethality. The distributed lethality concept was introduced (and is being advocated) by Vice Admiral Thomas Rowden, the Commander of the U.S. Navy's surface forces. It can be summarized by fitting more weapons on more vessels in order to "deceive the enemy, target the enemy, and destroy the enemy". Kongsberg's NSM anti-ship missile is set to be tested with a Freedom-class LCS as well.
Video: Interview on Harpoon during Sea Air Space 2016

Coronado is the second LCS of the Independence variant built by Austal USA and is homeported in San Diego.
LCS is a modular, reconfigurable ship, with three types of mission packages including surface warfare, mine countermeasures, and anti-submarine warfare. The LCS concept emphasizes speed and modularity thanks to its flexible mission module spaces. According to US Navy, the LCS is "envisioned to be a networked, agile, stealthy surface combatant capable of defeating anti-access and asymmetric threats in the littorals."
Link to Independence class Littoral Combat Ship technical datasheet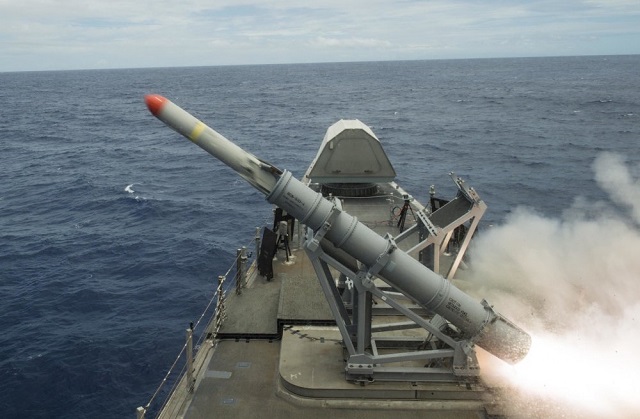 USS Coronado (LCS 4) launches the first over-the-horizon missile engagement using a Harpoon Block 1C missile. (U.S. Navy photo by Mass Communication Specialist 2nd Class Michaela Garrison/Released)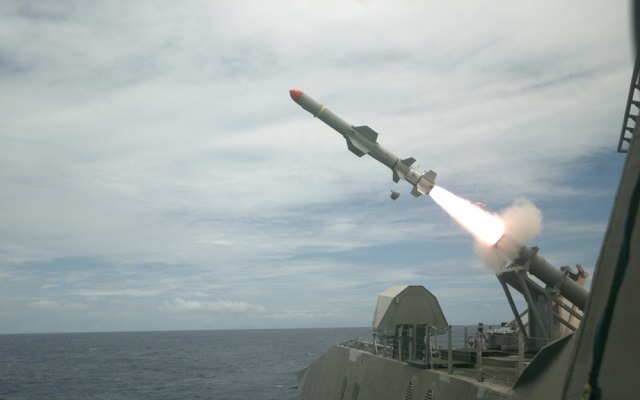 USS Coronado (LCS 4) launches the first over-the-horizon missile engagement using a Harpoon Block 1C missile. (U.S. Navy photo by Intelligence Specialist 2nd Class Andrew Pilato/Released)