a
Naval Industry News - France
ECA Group signs the FAT for the Anti-Submarine Warfare Simulator with an Asian Customer
In October 2016, ECA Group has signed the Final Acceptance Test for the Antisubmarine Warfare Tactical Trainer Simulator with an emergent country in Asia. The Simulator is the largest developed by the company situated the Far East area.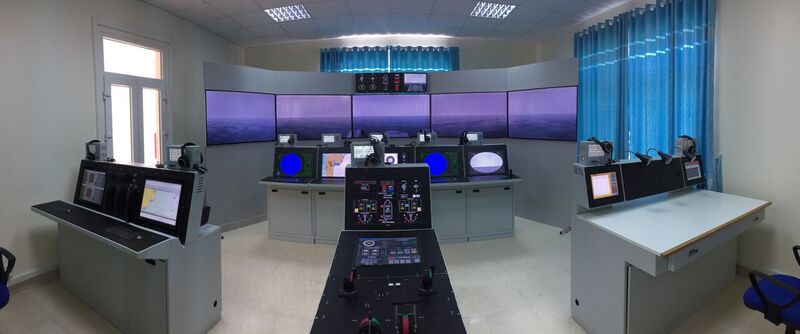 Picture showing the AntiSubmarine Warfare Simulator Ship Bridge
.
ECA Group successfully signed the final acceptance test for Anti-Submarine Warfare Simulator, the biggest naval simulation system delivered in the Far East Area.

The ASWTT system is composed of warship rooms, submarine simulator, helicopter for ASW and ASuW operation, including facilities for instructors and classroom.
ECA Group has installed and commissioned the ASWTT simulator in the second half of 2016. Navy operators, instructors and maintainers have been trained by ECA Group certified personnel and have become completely autonomous for all operations and maintenance needs.
The training course is a part of the system delivery; it is a highly important phase to ensure that the simulation system can be used exploiting all its potentiality in delivering a high training in ASW (Anti-Submarine Warfare) using all the capabilities of ECA Group naval simulation.
After a short theoretical introduction, ECA Group staff has shown the system capabilities to train sonar operator for acquiring advanced skills in detecting, tracking, analyzing, classifying and identifying sonar contact then planning and executing complex ASW operations with the use of warships, submarines and ASW helicopters, in order to train Staff officers and commanding officers in extremely realistic scenario.
The second part of the course, held by our team of software specialists was dedicated to the use of ECA Group DBMS (Database Management Station). This is a valuable software application meant to give to Navy customers the access to the simulation system database, with the possibility to model the ships, sensors and weapons on board of simulated assets to make sure the simulator is adapted to the actual training needs.
The exchanges with foreign Navies all over the world allow increasing the skill and experience ECA Group engineers giving the best references for its products.