a
Naval Industry News - Netherlands, South Korea
Thales & LiG Nex 1 Upgrade the Goalkeeper CIWS Aboard KDX-I Destroyers of the ROK Navy
Thales and LiG Nex1 signed a contract for the overhaul of two Goalkeeper close-in weapon systems on board the KDX-I class vessels of the Republic of Korea Navy. The overhaul will be carried out by Thales in close cooperation with DMI (the Naval Maintenance organisation of the Netherlands Ministry of Defence) and LIGNex1.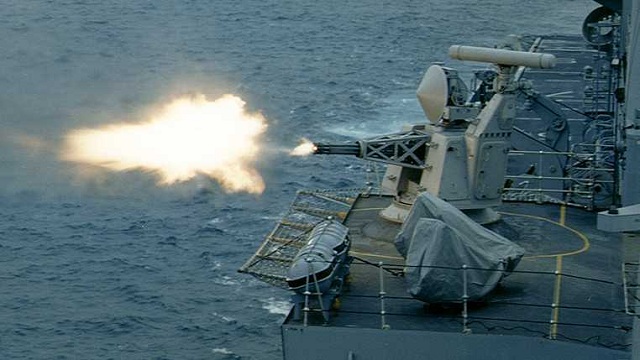 Thales Goalkeeper CIWS
(Picture: GDATP)
This contract follows on from contracts between LiG Nex1 and Thales for the overhaul of the MW08 and STIR 2.4 radars onboard KDX-II Wang Geon.
The current overhauls will be carried out in conjuction with LiG Nex1 in Korea and will include the construction of a dedicated workshop. LiG Nex1 and Thales are expecting to sign further overhaul contracts for the other vessels of the KDX-I class.
Patrick Defranoux, Country Director for Thales in Korea said: "Thales is proud of the opportunity to work with Korean industry to upgrade equipments and by so doing, to serve the best interests of the Korean Navy."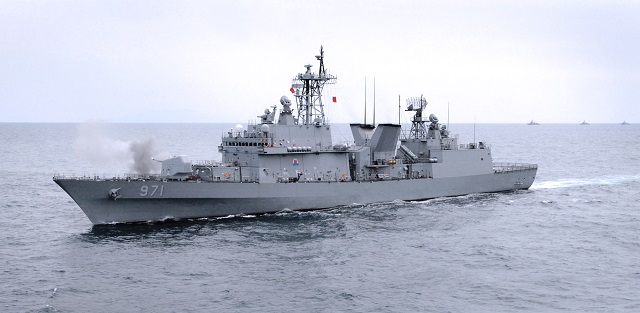 Gwanggaeto the Great-class destroyer of the ROK Navy
Comment by Navy Recognition
In 2015, Thales started updating the Goalkeeper CIWS of the Royal Netherlands Navy. Goalkeeper's prediction capabilities will be substantially increased through the use of new algorithms and state-of-the-art Electro-Optic tracking capabilities. This enables Goalkeeper to successfully engage the latest generation of missiles. Multi-Goalkeeper deployment capabilities will also be improved. Goalkeeper was developed in the 1980s; these modifications enable its deployment until 2025.
About Goalkeeper
Goalkeeper is a close-in defence system against highly manoeuvrable missiles and aircraft. It is an autonomous and fully automatic system which detects and tracks targets, opens fire and performs kill assessment for several targets simultaneously. Continuous search with track-while-scan provides an automatic and fast switch-over to the next-priority target in multiple-target scenarios. Goalkeeper assures timely detection of small and supersonic targets, even in dense clutter and jamming environments. Pin-point tracking of sea-skimming targets is assured by the unique dual-frequency track radar. Last but not least, the high-rate-of-fire Gatling 30-mm gun and special ammunition provide the lethal power necessary to destroy missile warheads. Goalkeeper's excellent performance was clearly demonstrated during various live firing trials. A total of 63 Goalkeepers have been sold to Navies in Europe, the Middle East and the Far East.