a
Naval Forces News - Russia
First stage of Russian Navy Tracking Ship Marshal Krylov Modernization Completed
The first stage of modernization of the only tracking ship (also called a missile range instrumentation ship) in the Russian Navy, The Marshal Krylov of the Pacific fleet was completed by Dalzavod Shipyard in Primorye region. After maintenance and upgrade the vessel will participate in ensuring national space security and rocket launches from Vostochny cosmodrome in Amur region, spokesman of the Eastern military district for the Pacific fleet Captain 2nd rank Vladimir Matveyev told TASS.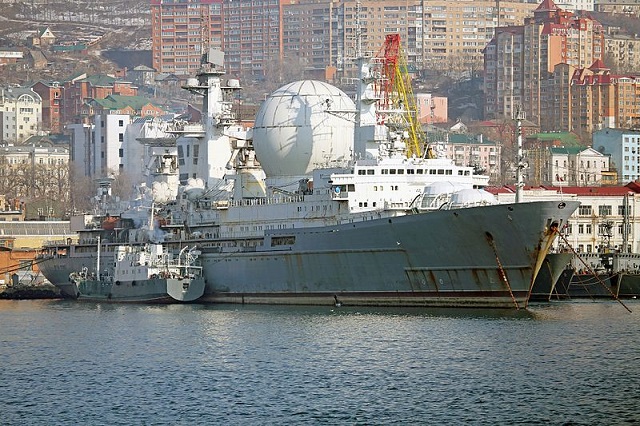 The Marshal Krylov tracking ship at Dalzavod shipyard in Ferbuary 2015. Picture by
Alex Omen

"The Dalzavod ship maintenance center in Primorye region continues upgrade and modernization of the sounding Marshal Krylov ship which is the only one of the class in the Russian Navy. At present the stern antenna installation has been completed. It means the first stage of modernization is over. Work is ongoing to service the main and auxiliary engines, navigational and radio-technical armaments, as well as the galley and cabin systems," he said.

After the upgrade of the tracking complex and ship maintenance the vessel will be used also to ensure space security of the country. The Marshal Krylov will assist in launches of spacecraft, cruise and ballistic missiles and will actively participate in rocket launches from Vostochny cosmodrome in Amur region.

The Marshal Krylov is a Soviet and Russian tracking warship, the second one of project 1914. It is designated to ensure tests of new space complexes, orbiting and combat duty of space forces, search, rescue and evacuation of crews of splashdown spacecraft, detection of warships, submarines and aircraft, retransmission of all types of information, provision of communications to cosmonauts with the mission command center.

© Copyright 2016 TASS. All rights reserved. This material may not be published, broadcast, rewritten or redistributed.