a
Naval Forces News - Russia
Russian Navy to decide on prototype Koalitsiya-F 152mm naval howitzer system production
The Russian Navy has not yet made any decision on the production of a prototype of the promising Koalitsiya-F 152mm shipborne howitzer, the press office of Russia's Uralvagonzavod armor producer said in an interview with Flotprom online media organization.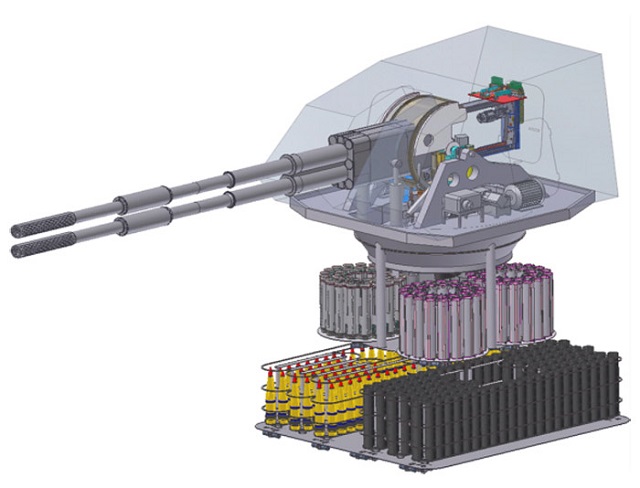 Koalitsiya-F 152mm naval gun system
The information about the Koalitsiya-F howitzer appeared in the media back to 2006, the press office added.

"Russia's Burevestnik Central Research Institute [an Uralvagonzavod subsidiary] has worked out proposals concerning the development of the Koalitsiya-F 152mm shipborne system and submitted them to the Navy," the press office said.

"As of today, a decision to organize work for the production of the prototype Koalitsiya-F howitzer has not been made by the Navy yet," the press office added.

As it was reported earlier, the Koalitsiya-F howitzer may become the main weapon of Russian Navy large ships. There were plans to mount it on the Project 23560 destroyer that is currently being designed. According to expert Prokhor Tebin, such weapons are not typical for advanced foreign-made ships.

"The United States sometimes shows interest in large-caliber guns but it focuses on guided and high-velocity projectiles," the expert said.

"The sole exception is the Advanced Gun System (AGS) mounted on Zumwalt-class destroyers. However, this system will not be produced in high volume for obvious reasons," he added.



© Copyright 2016 TASS. All rights reserved. This material may not be published, broadcast, rewritten or redistributed.



2S35 Koalitsiya-SV is the new generation of Russian-made self-propelled tracked howitzer
Comment by Navy Recognition
The

Koalitsiya-F 152mm naval gun system project is based on the

2S35 Koalitsiya-SV 152mm self-propelled tracked howitzer of the Russian army. The 2S35 Koalitsiya-SV tracked self-propelled howitzer is fitted with a single 2A88 152mm cannon. It has a maximum firing range of 30 km with standard ammunitions and around 40 km with rocket-assisted projectile. It has also a fully automated ammunition loading and handling system with 8 rounds per minute rate of fire.

The naval variant

"Koalitsiya-F

" has a dual 152mm gun arrangement. It is said to have been researched in the 1990ies at the same time of the R&D work for Koalitsiya-SV (land variant) by the leading developer - CRI "Petrel" (Nizhny Novgorod), in conjunction with the "Ural Plant of Transport Engineering" (Nizhny Tagil), TSNIIM and "Uralvagonzavod". Koalitsiya-SV first public appearance was in 2005 during rehearsal for the Victory Day military parade.

In 2002, the German Navy evaluated a modified PzH2000 155mm howitzer system known as MONARC (Modular Naval Artillery Concept) on the Type 124 Sachsen class frigate Hamburg. While the system performed well, components were difficult to protect against corrosion.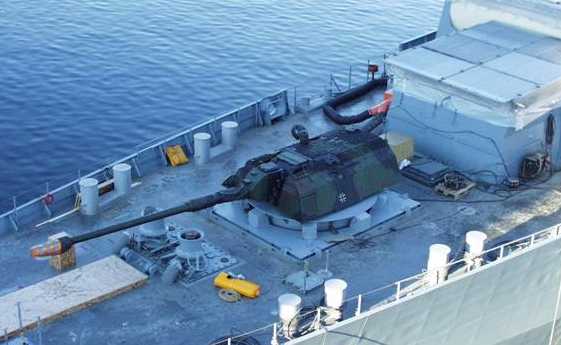 MONARC (PzH2000) tests in 2002 with a Sachsen class frigate of the German Navy. HDW picture.