a
Naval Forces News - Russia
Russian Navy Contract for two Lada-class non-nuclear Submarines not yet signed
The contract for the construction of two Lada-class non-nuclear submarines has not yet been signed, Alexander Buzakov, CEO of Admiralty Shipyard, from which the Defense Ministry plans to order these submarines, said at the keel-laying ceremony for the submarine on Friday.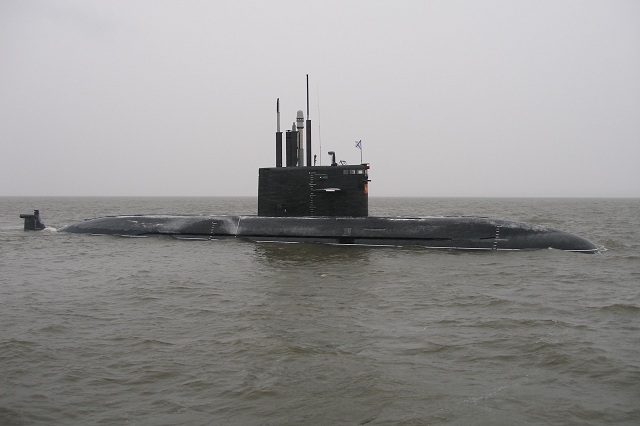 Lada class Diesel Electric Submarine (SSK) Project 677
"The contract has not yet been signed. It's too early to say about it. When the program (State Armament Program) is available, then it will be signed," he said.

Earlier Russian Navy's Deputy Commander-in-Chief for Armaments, Vice Admiral Viktor Bursuk said that the Russian Navy plans to order two more Project 677 Lada-class non-nuclear submarines.

Lada-class submarines belong to the fourth generation of non-nuclear submarines. Their surface displacement is about 1,750 tons (against 2,300 tons for Varshavyanka-class boats) and the submerged speed reaches 21 knots. The new-generation boats feature a low noisiness level and a high degree of automation. They carry the Kalibr cruise missiles as their primary armament.

The lead boat St. Petersburg of the series was laid down in 1997 and has been in trial operation since commissioning into the fleet in 2010. Kronstadt and Velikie Luki were laid down in 2005 and 2006, respectively. Their construction was suspended and did not resume until 2013. Comments

© Copyright 2017 TASS. All rights reserved. This material may not be published, broadcast, rewritten or redistributed.

Comments


The lead ship of the class, named Sankt Peterburg, was launched in October 2004 and began sea trials in November 2005. The submarine was transferred to the Russian Navy in April 2010. In November 2011 the Russian Navy decided that this class of submarines would not be accepted into service, as the lead boat had fallen far short of requirements during tests.
On 27 July 2012, the Russian Navy commander-in-chief announced the resumption of the construction of the St. Petersburg-class submarines, having undergone extensive design changes. In 2013 and 2015, two further boats were re-laid and commissioning was expected in 2017 and 2018. In June 2017, the Russian Navy revealed it plans to order two more Lada-class submarines.