a
Naval Forces News - USA, Japan
US, Japan conclude mine countermeasures exercise 2JA
By MC2 William McCann, USS Pioneer Public Affairs
U.S. naval forces and the Japan Maritime Self Defense Force concluded 2JA mine countermeasures exercise (MCMEX) after 10 days of unit-level and combined MCM-related drills on July 28. 2JA MCMEX is an annual bilateral exercise held between the U.S. and Japan to strengthen interoperability and increase proficiencies in mine countermeasures operations. This year marks the 100th time that the U.S. and the Japanese have conducted bilateral mine countermeasures together, often conducting them twice a year, since bilateral exercises of this type began in 1962.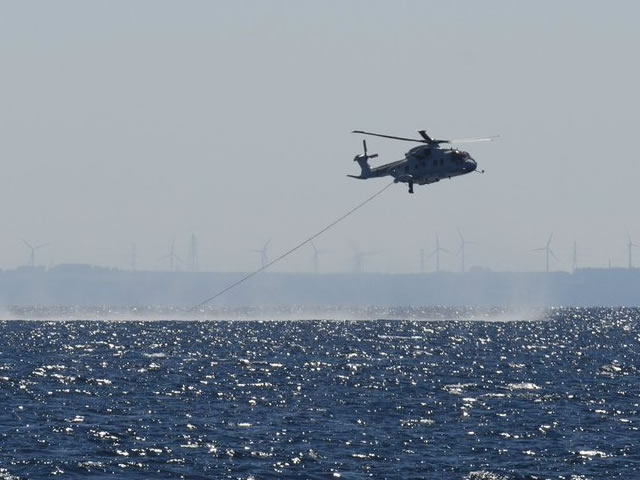 A JMSDF MCH-101 Mine Warfare Helicopter

performs mine countermeasures ops in Mutsu Bay. US Navy picture.

The exercise brought together surface and air mine countermeasure units from both nations, teamed up with explosive ordnance disposal (EOD) personnel.

From personnel exchanges, to U.S. EOD embarking on mine countermeasures support ship JS Bungo (MST-464), to Japanese EOD launching out of a U.S. MH-53, the exercise emphasized working side-by-side.

As a culminating event, U.S. and JMSDF forces conducted combined MCM operations to clear a mine-free passage in one of the designated exercise areas.

"It has been impressive to see our forces come together like this," said Cmdr. Adrian Ragland, the senior U.S. mine warfare representative for the exercise and the deputy commodore of Mine Countermeasure Squadron (MCMRON) 7. "We have trained as individual units to be ready for this and here everyone came together as a combined force, as allies, to achieve very complex mine countermeasures operations."

Aboard the U.S. surface MCM asset, USS Pioneer (MCM 9), the crew worked tirelessly to manage equipment and systems to help determine where exercise mine shapes were in the water. Minemen operated the sonar and battle-space profile (BSP) survey in the ship's combat information center while deploying its sweeps to further detect and neutralize mines.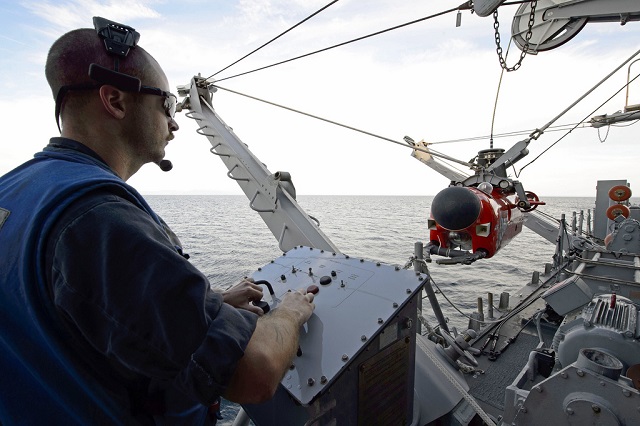 Mineman 1st Class Zachary Abel deploys a mine neutralization vehicle aboard USS Pioneer (MCM 9), July 26. (U.S. Navy/MC2 William McCann)
"I am proud of the effort of the entire crew to make 2JA MCMEX a success," said Lt. Cmdr. Brett Jasionowski, commanding officer, USS Pioneer. "The search techniques of our Minemen and Operations Specialists were superb as we leveraged our sonar capability to provide an accurate picture of mine shapes to the entire force. Working together in partnership with the JMSDF is a privilege, and we all gained from this experience."

As part of the exercise, a JMSDF and U.S. Navy personnel exchange was conducted to assist both navies in understanding each other's minesweeping operations and general ship life. JMSDF Petty Officer 3rd Class Higuchi Shoma came aboard Pioneer for four days of the exercise and had the opportunity to conduct mine sweeping and ship handling right alongside his U.S. counterparts.

"I feel there is a culture difference between us, but I was happy to help the Pioneer crew," said Shoma. "The past few days I have gained valuable experience which I will take back to my ship, JS Bungo."

Operations Specialist 1st Class James Delisle, a member of the MCMRON 7 staff, spent the exercise embedded aboard JS Bungo. Reflecting on the experience, he viewed his time on JS Bungo as a prime opportunity to learn from the JMSDF and its approach to mine countermeasures.

"It was an absolutely wonderful opportunity to cooperate with and learn from our JMSDF counterparts," said Delisle. "I look forward to continued partnerships and evolutions to come."

MCMRON 7 and Pioneer are assigned to Amphibious Force 7th Fleet, the Navy's only forward-deployed amphibious force, headquartered at White Beach Naval Facility, Okinawa.