a
Naval Forces News - South Korea

Hyundai Heavy Industries Delivers Second LST-II Landing Ship to ROK Navy
South Korea's Defense Acquisition Program Administration (DAPA) has announced that the second LST-II class Landing Ship Tank "Cheon Ja Bong" was delivered today to the Republic of Korea Navy (ROK Navy). The LST is the second of four vessels set to be built by 2018 as part of South Korea's the next generation landing ship project. The first ship, the "Cheon Wang Bong", was delivered to the ROK Navy in November 2014.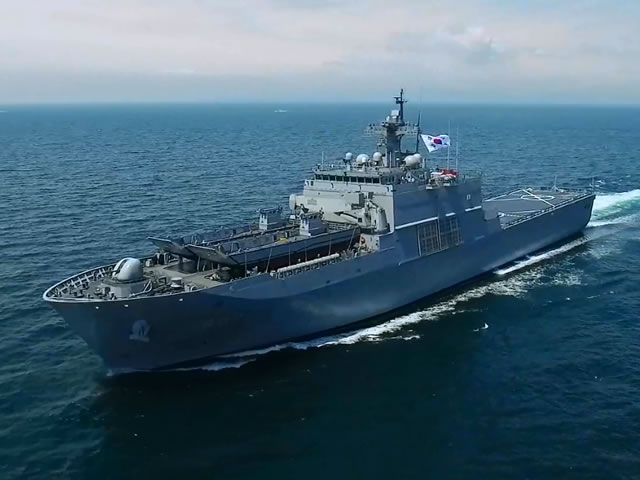 ROK Navy LST-II class landing ship

Cheon Ja Bong

during sea trials. DAPA picture.
Cheon Ja Bong displaces 4950 tons (over 7000 at full load) and measures 126.9 meters in length. It can transport more troops and hardware further away at a faster speed than the current Gobongjun-class (LST-I) ship. It can travel at a maximum speed of 23 knots and can accommodate 300 troops, two LCMs, two MBTs and eight amphibious assault vehicles.

The helicopter pad can accommodate two helicopters, a feature that makes simultaneous airborne and maritime infiltration operations possible.
Cheon Ja Bong keel was laid in December 2013 and the hull was launched in December 2015 at Hyundai Heavy Industries shipyard. It already went throught sea trials and will be deployed after about four months of crew training and familiarization.

"When the Cheonjabong is deployed, it will play a key role, together with the first ship Cheon Wang Bong, as the main landing ships of the ROK Navy," Lee Jae-dong, an official of the procurement agency, said. "It will carry out not only landing operations, but also a variety of other missions in wartime, and is expected to contribute to peacekeeping operations in peacetime."