a
Naval Industry News - Italy, Qatar
Qatar Confirms Order for Air Defence Corvettes, LPD and OPVs from Fincantieri
Qatar confirmed today its order for seven vessels from Italian shipbulder Fincantieri following the signing of a preliminary contract in June 2016. The deal consists in four air defence corvettes of over 100 meters in length, one amphibious vessel (LPD - Landing Platform Dock acting as mobile radar station for the corvettes), and two patrol vessels (OPV - Offshore Patrol Vessel)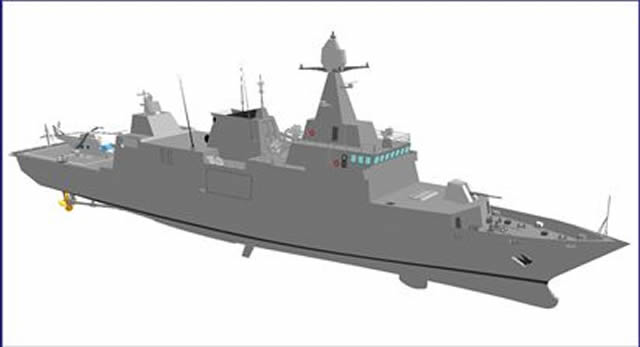 Design of the air defence corvettes allegedly contracted by Qatar in the amount of four units. Picture: Fincantieri.

"We have signed a contract on behalf of the Qatari navy to acquire seven warships from Italy for five billion euros (5.9 billion U.S. dollars)," Foreign Minister Sheikh Mohammed bin Abdulrahman Al-Thani said at a Doha press conference with his visiting Italian counterpart Angelino Alfano.

The deal includes support services in Qatar for further 15 years after the delivery of the vessels. All the units will be entirely built in Fincantieri Italian shipyards starting from 2018, ensuring 6 years of work and an important impact on the main Italian defense companies.

Leonardo will be responsible for the integrated supply of the new naval units' combat system, main radars and on-board sensors and defence sub-systems, including 76/62 medium calibre and 30mm small calibre weapon systems, the anti-torpedo protection system, the Thesan mine avoidance sonar.

MBDA will be supplying the Qatar Emiri Naval Forces (QENF) with Exocet MM40 Block 3 anti-ship missiles as well as Aster 30 Block 1 and VL MICA air defence missiles.