a
Naval Forces News - Russia
Russian defense ministry receives two Project 23040 boats
The Nizhegorodsky Teplokhod Shipyard has delivered two Project 23040 inshore diving boats, the RVK-1229 and RVK-1230, to Russia's Defense Ministry, the shipyard's press office said.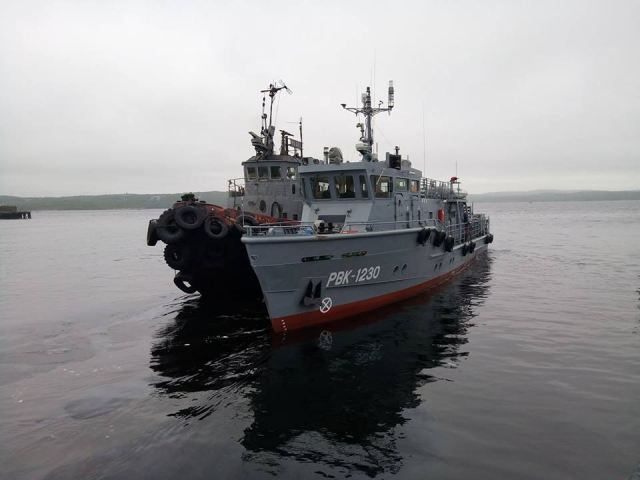 (photo:portnews.ru)
The boats will join the Northern Fleet's diving service, the press office added. "The RVK-1229 and RVK-1230 are the 17th and 18th boats in the series. Initially, the shipyard received an order for 16 vessels of the type but later their number was increased to 22. As of today, 20 Project 23040 boats have been built," the press office said.

According to the press office, the 19th and 20th boats designated as RVK-1239 and RVK-1261 were floated out on June 8. "They will undergo running trials in the imminent future and will be delivered to the Defense Ministry. The boats will join the Pacific Fleet," the press office said. As Nizhegorodsky Teplokhod Shipyard Managing Director Sergei Konovalov said, the shipyard had built 10 similar-type Project A-160 boats before it launched the construction of the Project 23040 vessels and, therefore, it has built 30 diving boats as of today.

Nizhegorodsky Teplokhod Shipyard Director for Production Sergei Grechishnikov said that the Project 23040 boat was unique as it had a decompression system and equipment to provide medical assistance to divers. The boat allows divers to submerge to a depth of 60 meters. It is equipped with a remote-controlled unmanned submersible vehicle and a side-scanning towed sonar. The boat can extinguish fire at facilities up to 30 meters high.
© Copyright 2017 TASS. All rights reserved. This material may not be published, broadcast, rewritten or redistributed.