a
Naval Industry News - USA
Huntington Ingalls Industries to Build 9th Legend-class National Security Cutter for U.S. Coast Guard
Huntington Ingalls Industries' Ingalls Shipbuilding division has received a $486 million fixed-price incentive contract from the U.S. Coast Guard to build a ninth National Security Cutter.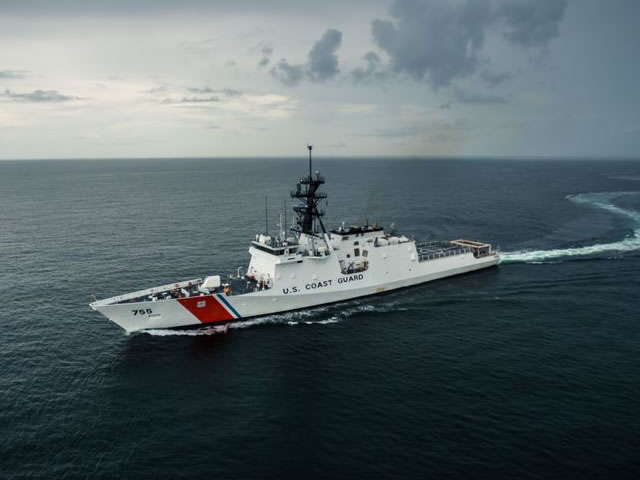 Munro, the sixth U.S. Coast Guard National Security Cutter (NSC) built at Ingalls Shipbuilding, spent three days in the Gulf of Mexico testing all of the ship's systems. Photo by Lance Davis/HII
"With the experience and knowledge our shipbuilders bring to this program, I am confident NSC 9 will be another great ship and continue the great success on this program," said Ingalls Shipbuilding President Brian Cuccias. "These ships remain in high demand by our Coast Guard customer, and we look forward to delivering another quality NSC to help them accomplish their vital homeland security missions."

NSCs are the flagships of the Coast Guard's cutter fleet, designed to replace the 12 Hamilton-class high-endurance cutters, which entered service during the 1960s. Ingalls has delivered six NSCs and has two more under construction: Kimball (WMSL 756) and Midgett (WMSL 757). These ships are scheduled to be delivered in 2018 and 2019, respectively.

"We are extremely proud of the quality of the NSCs we've built for the U.S. Coast Guard," said Derek Murphy, Ingalls' NSC program manager. "As we continue to be the sole builder in this class, the benefits of serial production are apparent: technologically advanced, dependable ships that are built at cost and on schedule."

Legend-Class National Security Cutters are the flagships of the U.S. Coast Guard. They are the most technologically advanced ships in the Coast Guard's fleet, with capabilities for maritime homeland security, law enforcement and national security missions. NSCs are 418 feet long with a 54-foot beam and displace 4,500 tons with a full load. They have a top speed of 28 knots, a range of 12,000 miles, an endurance of 60 days and a crew of 120. The Legend class of cutters plays an important role in enhancing the Coast Guard's operational readiness, capacity and effectiveness at a time when the demand for their services has never been greater.