a
Naval Industry News - France, India
DCNS and MDL Proposing Three More Scorpene-class Submarines with AIP to the Indian Navy
According to well connected French financial newspaper La Tribune, French shipbuilder DCNS and its Indian industry partner Mazagon Docks Limited (MDL) have made an unsolicited "repeat order" offer for three Scorpene-class submarines to the Indian Navy.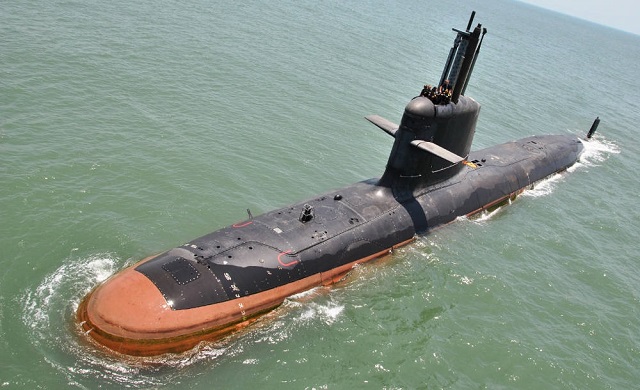 Maiden sea trial of the first P75 Scorpene Submarine of the Indian Navy INS Kalvari on May 1st 2016. Indian Navy picture.
Six submarines of the P75 project are being built by MDL through technology transfers from DCNS for the Indian Navy. "Kalvari", the first Scorpene class diesel-electric submarine (SSK) was launched in the water on 28th October 2015 in Mumbai. It started sea trials in May last year. The sea trials campaign went well and left Indian submariners with a very good impression. "Khanderi", the second submarine in the series, is set to be launched this month.

The repeat order proposal for three more submarines would include an Air Independent Propulsion (AIP) system developped by India's Defence Research and Development Organization (DRDO). An AIP system allows submarines to stay underwater for longer durations. The last two of the six Scorpene submarines initial order (P75 project) were set to be fitted with this DRDO AIP system but the decision was reverted late last year. According to Indian media, the DRDO missed the deadline.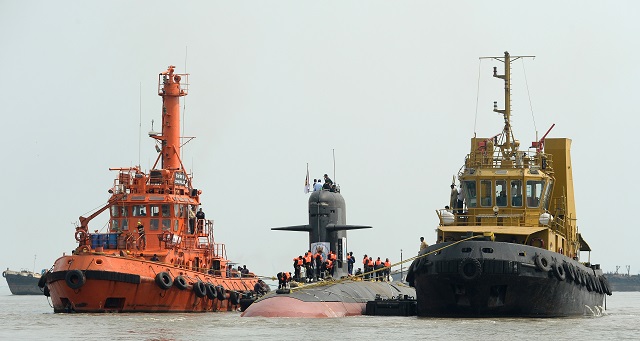 INS Kalvari during trials. Picture: DCNS
Regarding the "leak" of sensitive documents issue, La Tribune's article stresses that India is now reassured over the false data leak case. India and France managed this issue by setting up a joint working group. The leaks were mainly commercial or training-related information as well as technical documents with a "restricted" classification level at most (as opposed to the much more sensitive "secret" or "top secret" levels).

During the international Seminar on "Current & Future Challenges in Design & Construction of Underwater Vehicles" held in November 2016, Indian Defense Minister Manohar Parrikkar expressed a need for 24 submarines to be built for the navy (including the 6 P75 Scorpene submarines currently on order).

In October 2014, India launched the P75I project, a follow-on to Project P75. Under this project, the Indian Navy intends to acquire 6 diesel-electric submarines with AIP for endurance and a vertical launch system (VLS) to enable them to carry multiple Brahmos supersonic cruise missiles. All six submarines are set to be constructed in Indian shipyards in accordance with the Make in India initiative of the government. The likely designs bidding for P75I are Germany's (TKMS) Type 214, Russia's (Rubin design bureau) Amur-class, Sweden's (Saab) A26 and France's (DCNS) Scorpene.