a
Naval Forces News - Russia
Russia's Pacific Fleet planning to commission Project 20380 Corvette Sovershenny in earlier 2017
The Project 20380 (NATO reporting name: Steregushchy-class) Sovershenny corvette will be commissioned for service by the Russian Navy's Pacific Fleet early this year, the fleet's press office has said in a news release.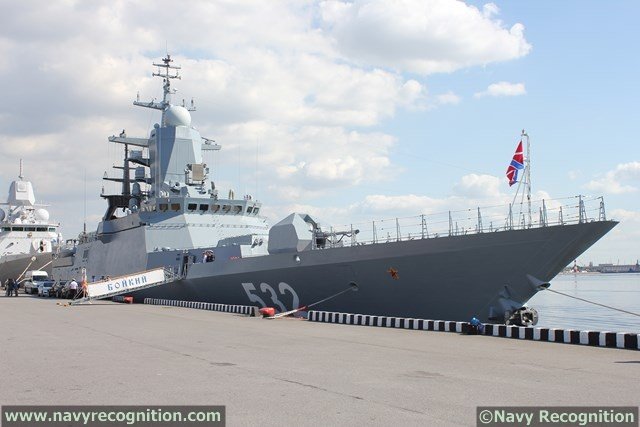 Steregushchy-class (Project 20380) corvettes Boiky of the Russian Navy Baltic Fleet
"The Sovershenny corvette will join the Pacific Fleet in the first half of 2017. At present, the ship is in trials supervised by the fleet's armament, communications, air defense, electronic warfare and other specialists," the press release says.

The Amur Shipyard laid down the Sovershenny in 2006 and launched her in 2015. Navy Deputy Commander-in-Chief for Armament Vice Admiral Victor Bursuk had said previously that the service intended to receive the ship before the end of 2016.

The Project 20380 corvette is the littoral ship capable of fighting enemy surface ships and submarines and providing fire support during amphibious assault operations. Her total displacement is around 2,200 tons, speed 27 knots and endurance 4,000 nm. The mainstay of the ship's weapons suite is the Uran (SS-N-25 Switchblade) antiship and Redut air defense missile systems. The corvette also carries guns, antisubmarine weapons and a helicopter.



© Copyright 2017 TASS. All rights reserved. This material may not be published, broadcast, rewritten or redistributed.