a
Naval Industry News - Germany, Turkey
Rolls-Royce To Supply MTU Engines For Damen Search and Rescue Vessels In Turkey
Rolls-Royce will supply MTU diesel engines for six new search and rescue vessels to be built by Damen Shipyards and operated by the Turkish Coastguard. Damen Shipyards has been awarded a contract by the International Organisation for Migration (IOM) in Ankara to build the vessels which will each feature two 8-cylinder MTU Series 2000 engines. The boats will support ongoing operations to rescue migrants and refugees from crisis areas along the Turkish coast. They are designed to be self-righting, should they capsize, the MTU engines will keep on running even in the extreme event that the vessel completes a full 360° vertical roll around its longitudinal axis. The MTU brand is part of Rolls-Royce Power Systems.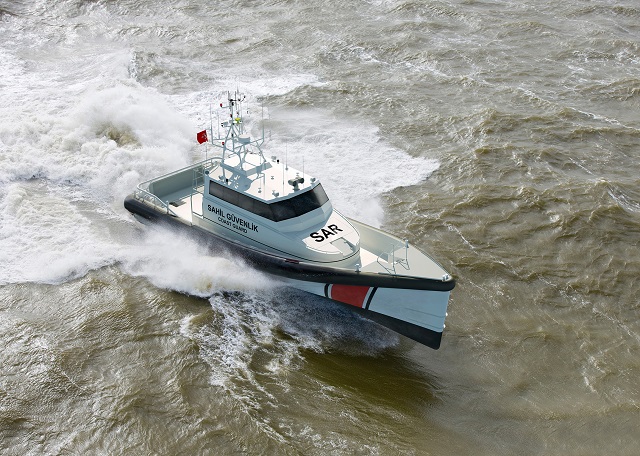 Six SAR 1906 vessels to be built by Damen Shipyards will each be equipped with two 8V 2000 M84L engines from MTU and operated by the Turkish Coastguard.
The six new vessels will be built by Damen Shipyards Antalya with the first delivery expected in May 2017 and the remainder by the end of the year. The vessels are designed and equipped to operate as lifeboats, and the aluminium hull is based on Damen's Axe-Bow technology. The MTU 8V 2000 M84L engines enable a top speed of 33 knots for search and rescue operations.

Knut Müller, Head of the Marine and Government Business Division at MTU said: "We have designed our engines specifically for such difficult operational conditions, including the unlikely event of capsizing. They are equipped with a special kit, which ensures that there is sufficient oil available to coat the engine parts with a film of lubricant." The European Union is providing financial support for the project.