a
Naval Forces News - Russia
Russia Pacific Fleet hospital ship Irtysh to receive latest telemedicine systems
The Irtysh hospital ship of the Russian Navy's Pacific Fleet has passed the second stage of its upgrade and advanced medical equipment installation, according to the Eastern Military District's press office.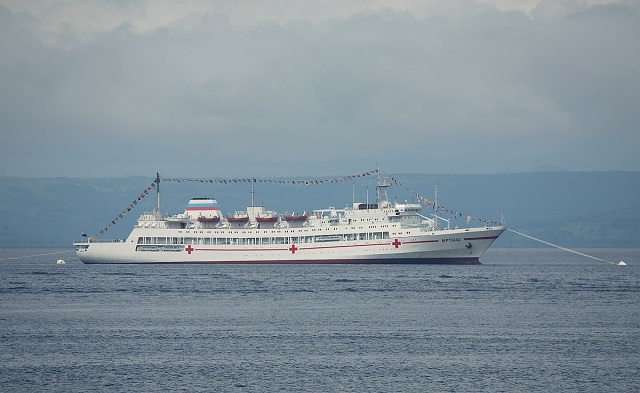 The Russian Navy hospital ship "Irtysh" during the 2008 naval parade in Vladivostok. Picture: Alex Omen
"Under a government-placed contract, the sea-going hospital ship has been furnished with the latest X-ray and ultrasonic systems, up-to-date surgical, resuscitation, laboratory and anesthetic equipment and latest-generation life support systems," the news release says.

In addition, the ship will be afforded telemedicine equipment in 2017, which will enable its medical personnel to conduct online operations in conjunction with top medical staff of the Russia Defense Ministry's central hospitals and online training and consultations for military medics on the high seas.

The Irtysh hospital ship can receive casualties and sick persons both from the shore and out in the sea. For this purpose, it has two gangways on either side, an electric crane to hoist as many as six persons on a platform, a medical boat and a helicopter. There are 100 beds for patients on board the ship, and 450 can be set up during their en-masse arrival. There are 200 rehabilitation beds as well. All medical rooms are fully outfitted as needed.



© Copyright 2017 TASS. All rights reserved. This material may not be published, broadcast, rewritten or redistributed.