a
Naval Forces News - Russia

Russian Navy Confirms New Aircraft Carrier and Nuclear-Powered Destroyer Plans
The Russian Navy plans to build a new aircraft carrier and a nuclear-powered destroyer, Russian Navy Deputy Commander for armaments Vice Admiral Viktor Bursuk said at the 2017 International Maritime Defense Show in St. Petersburg.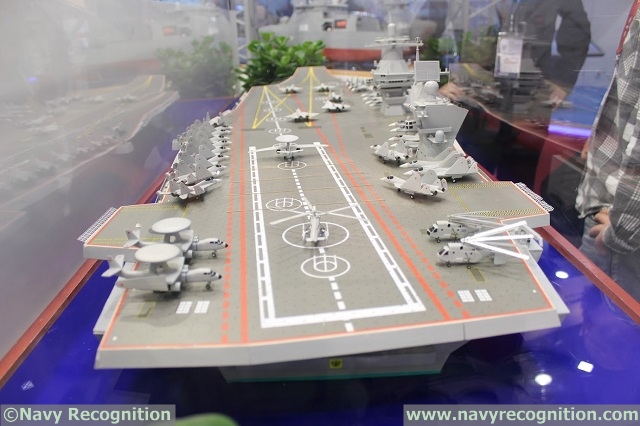 Project 23000E Storm aircraft carrier showcased by Krylov during Army 2016 exhibition.

"Yes, the Navy will definitely build an aircraft carrier. The mockup demonstrated by the Krylov State Research Center is just a mockup. There are many of them. Different bureaus are designing the concept of the warship," he said.

The Russian Navy earlier said it expected to receive the first advanced nuclear-powered aircraft carrier by the end of 2030. According to Deputy Defense Minister Yuri Borisov, the contract to build the aircraft carrier may be signed by the end of 2025.

The Krylov State Research Center earlier declared the design of Project 23000E Shtorm (codename Storm) heavy carrier with a displacement of up to 100,000 tons and capable of carrying a group of 80 to 90 aircraft on board.

Bursuk also said the perspective destroyer with guided missiles will be nuclear-powered. "I believe yes," he answered to a question about the power plant of the warship. "The Severnoe Design Bureau will engage in the project. The Russian Navy will definitely have big surface nuclear-powered warships. The Leader will not be the only one in the series," Bursuk said.



© Copyright 2017 TASS. All rights reserved. This material may not be published, broadcast, rewritten or redistributed.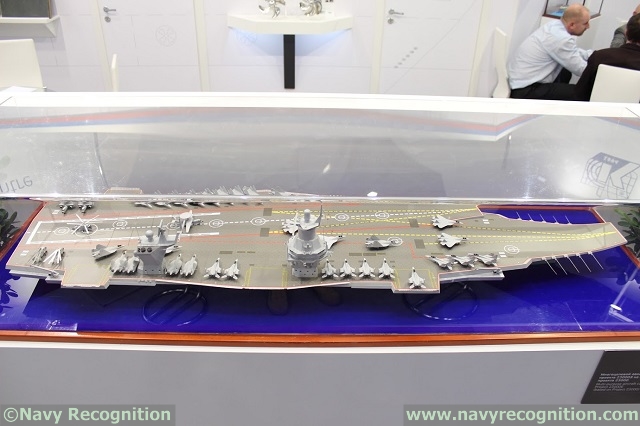 Project 23000E Storm aircraft carrier showcased by Krylov during Army 2016 exhibition.

Comments
Krylov State Research Center completed last year a conceptual design of the Project 23000 Shtorm aircraft carrier intended to displace 95,000 tons and carry an air wing of 65 aircraft. Her power plant may be nuclear. In addition, provision has been made for two electromagnetic catapults.

According to Krylov "the Project 23000 multirole aircraft carrier is designed for operations far in the ocean, attacks on land-based and naval targets, provision of combat stability for friendly naval forces and air defense of Marines and supporting ships during amphibious assaults. The future ship is supposed to displace about 95,000 tons, measure 330 m long and have a speed of 30 knots. The carrier is to carry sophisticated radio equipment, radars and self-defense systems. Her complement will be several thousand servicemen, including the personnel of her air wing".