a
Naval Forces News - Russia
Second Project 20386 Corvette / Russian LCS Slated to be Laid Down in 2018
The second Project 20386 guided missile corvette is scheduled to be keel-laid in St. Petersburg in 2018, Alexander Shlyakhtenko, CEO of the Almaz Central Design Bureau, told TASS. "It is scheduled for the next year," he said, answering the question concerning the timing of laying down the second ship.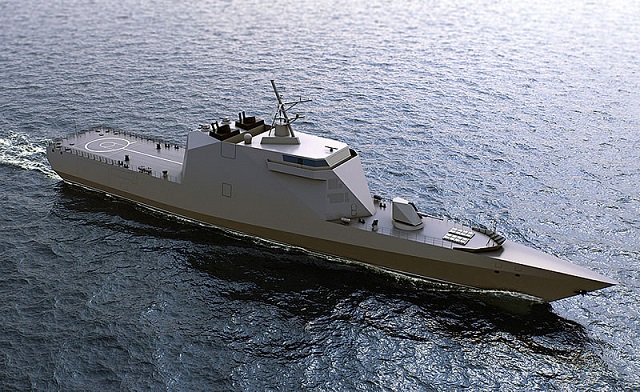 Artist impression of the new Project 20386 Corvette for the Russian Navy
According to him, the new Project 20386 differs drastically from the basic Project 20380. Its seaworthiness and habitability have been significantly improved. "This is a completely new step and the project has absorbed a lot of habitability. It has great modularity, which concerns everything, but mostly weapons. A diving complex, counter-mine weapons, anti-submarine weapons can be installed," he said.

Shlyahtenko also added that the new corvette can be equipped with Kalibr cruise missiles. The lead ship Derzky was laid down at the end of 2016 at the Severnaya Verf shipyard. Its delivery to the Navy is scheduled for 2021. Viktor Bursuk, Deputy Commander-in-Chief of the Navy, reported earlier that the Russian Navy plans to get more than ten corvettes of new Project 20386.

© Copyright 2017 TASS. All rights reserved. This material may not be published, broadcast, rewritten or redistributed.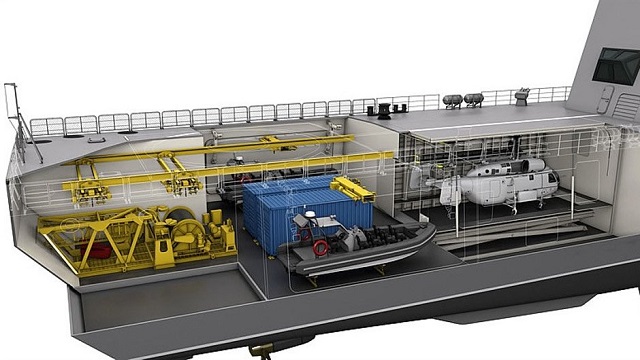 The modular mission bay at the stern, somewhat similar to the U.S. Navy's LCS
Navy Recogniton Comment on Project 20386
The Project 20386 is fundamentally a new design concept for the Russian Navy: It features a balanced composition of weapons, integrated information management system, open architecture, new radar and robotic systems and a reduced crew complement. Similar to the U.S. Navy littoral combat ships (LCS), the project is based on the principle of modularity: Equipment aboard the ship depends on the mission. There is a completly modular mission bay under the helicopter platform.

The corvette also shares size and displacement comparable to the LCS of the U.S Navy.

Sensor suite includes the new multifunctional radar complex MF RFCs "Barrier" and sonar system "Minotaur ISPN-M" with towed array based on the CIM 335 EM-03. Main propulsion is a combined gas turbine unit with a partial electric drive composed of: two gas turbine engine M90FR by JSC Saturn with a capacity of 27,500 hp, two 2200 hp electric motor.
According to plans, the Russian Navy will receive the lead ship in 2021.The Russian Navy plans to procure at least 10 ships for now. As expected, the head of the order exceeds the value of 20 billion Rubles.
Basic tactical and technical characteristics:
Displacement - 3400 tons.
Length - 109 meters.
Width - 13 meters.
Speed - 30 knots.
Cruising range - 5000 miles.
Crew - 80 sailors.
Armament (planned):
1x1 - 100mm universal gun mount type A-190.
2x6 - 30mm AK-630M-type machine.
2x8 - SAM type "Redoubt" vertical launchers.
2x4 - launchers "Uranus" RCC for complex "Kalibr-NK".
2x4 - torpedo launchers complex protection "Packet-NK".