a
Naval Forces News - China
China's 25th Type 054A Frigate Commissioned with PLAN North Sea Fleet

The People's Liberation Army Navy (PLAN or Chinese Navy) commissioned its 25th Type 054A Frigate (Jiangkai II-class) "Wuhu" (hull number 539). The Commissioning ceremony took place on June 29th at Lvshun Kou naval base (Dalian province). The frigate joins the PLAN North Sea Fleet. This comes just six days after the commissioning of the 24th vessel of the class.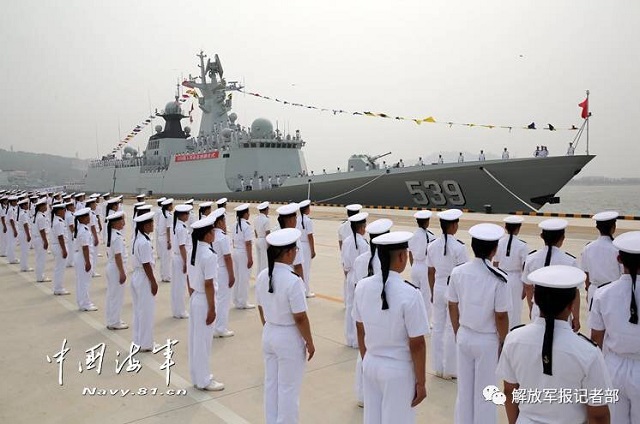 Type 054A Frigate "Wuhu"
Type 054A Frigate
Based on the Type 054 Frigates, the Type 054A incorporates a larger number of more-advanced indigenous systems. The first of class entered service with the PLAN in January 2008.

Type 054A Frigates are fitted with 32 VLS (Vertical Launch System) cells for HQ-16 surface to air missiles, 8x YJ-83 (export designation C-803) anti-ship missiles, a H/PJ-26 76mm main gun, two H/PJ12 seven-barreled 30mm CIWS guns (for frigates 1 to 16 in the series) or H/PJ11 eleven-barreled 30mm CIWS for new vessels starting with Huanggang (hull number 577) the seventeenth ship of the class. Two triple YU-7 torpedo launchers and anti-submarine rocket launchers are fitted for ASW warfare.



"Wuhu" (hull number 539)

was built Hudong Shipyard near Shanghai, launched in June 2016. It is the 13th frigate of the class built in this shipyard and the second one to be commissioned this year.

Video: Type 054A Frigate "Wuhu"
Since first ship of the class was commissioned in January 2008, the PLAN commissioned 25 Type 054A multi-mission frigates in just 9 years.

Today, at least two more vessels of the class are at various stages of construction. The new Type 054B class (fitted with a full electric propulsion system) is set to follow on.
With information and pictures from our colleagues at Eastpendulum