a
Naval Forces News - Russia
Russian Pacific Fleet Project 20380 Corvette Sovershenny Completes Sea Trials
The advanced Project 20380 corvette Sovershenny built for the Pacific Fleet by the Amur Shipyard in Russia's Far East has completed the sea stage of its state trials, fleet spokesman Captain 2nd Rank Vladimir Matveyev said.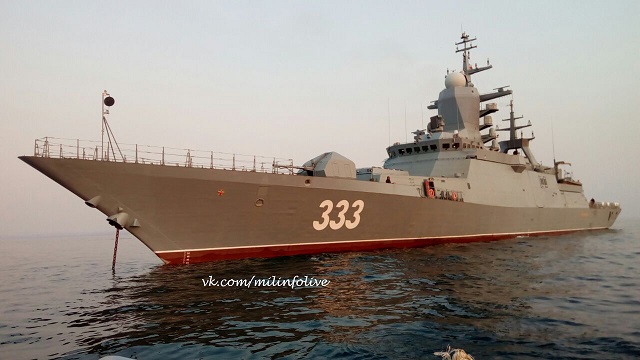 Project 20380 corvette Sovershenny built for the Pacific Fleet
Check and final painting are currently under way on the ship, the spokesman added.

"The corvette Sovershenny has completed its state trials at Pacific Fleet sea ranges. During the state trials, the shipbuilder team in cooperation with the corvette's crew and the state acceptance commission held maneuverability and speed tests and checked the operation of all its systems, units, navigation and radio equipment and weapons," Matveyev said.

"In particular, the ship's crew conducted missile and artillery test firing against surface, aerial and coastal targets and practiced air defense and antisubmarine warfare. Kamov Ka-27 [NATO reporting name: Helix] shipborne helicopters landed on the corvette for the first time," he added.

After the customer signs the acceptance report, the ship will join the Pacific Fleet. The Project 20380 corvette is a close maritime zone warship. It is designed to fight surface ships and submarines and provide fire support during amphibious landing operations. The Project 20380 corvette has a full displacement of about 2,200 tons, a speed of 27 knots and a cruising capacity of 4,000 miles. The corvette's main armament includes the Uran anti-ship and Redut air defense missile systems. It is also armed with the 100mm A-190 and 30mm AK-630 guns and Paket torpedo launchers. It also has a helipad and a hangar.

© Copyright 2017 TASS. All rights reserved. This material may not be published, broadcast, rewritten or redistributed.