a
Naval Defense Industry News - Russia
Rubin Central Design Bureau Unveiled the Amulet UUV
The Rubin Central Design Bureau, a subsidiary of Russia's United Shipbuilding Corporation (USC), has displayed the advanced Amulet unmanned submersible vehicle at the International Maritime Defense Show 2017 (IMDS 2017). The Amulet unmanned underwater vehicle was developed by the design bureau on its own initiative.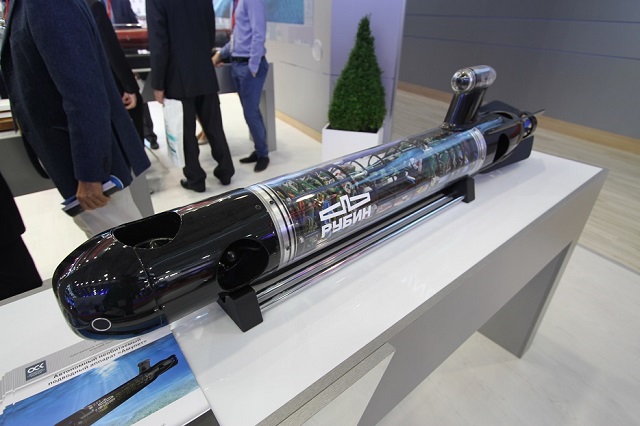 Amulet UUV showcased during IMDS 2017. Picture by Denis Fedutinov via bmpd
"The model was developed on the design bureau's own initiative. Just two weeks ago, the system underwent trials, during which its controllability and the operation of its cameras were tested," a Russian defense industry spokesman said.

"The unmanned submersible vehicle has not been shown to the military yet. Probably, they will demonstrate interest in it during the [IMDS 2017] exhibition," the spokesman added.

The civil version of the Amulet unmanned submersible vehicle currently on display at the IMDS 2017 exhibition is controlled via a smartphone. The system has a propulsion/steering unit and vertical and horizontal thrusters in its bow and a similar propulsion/steering unit and a propulsor in its stern.

The Amulet system has two cameras, one in the sonar dome in the upper part and the one in the bow. A third camera can be installed in the system's bottom. The system also has bow-mounted echo sounders. At the customer's request, any additional system can be mounted in the vehicle's bottom.

The Amulet unmanned submersible vehicle is designed for search and rescue and survey operations and temperature, pressure and speed sound measurement. The system's baseline version has onboard control equipment, digital photo and video cameras for surface and underwater survey, a GPS receiver, sound speed and temperature measuring sensors and Wi-Fi and radio communications modules.

The system can operate at a maximum depth of 50 meters. It has a submerged speed of 1.5 m/s, a cruising submerged speed of 1 m/s and a cruising range of 15 kilometers (9 miles).
The unmanned submersible vehicle has a length of 1.6 meters, a diameter of 160mm and a weight of 25 kilograms.



© Copyright 2017 TASS. All rights reserved. This material may not be published, broadcast, rewritten or redistributed.