a
Naval Industry News - Russia
Two Project 22800 Karakurt Corvettes under Construction at Zelenodolsk Shipyard
According to the annual report published by JSC Zelenodolsky Plant, the shipyard laid the keel of two Project 22800 Karakurt-class corvettes ("small rocket ships" in Russian designation) with the factory numbers 801 and 802. The keel laying of these ships has never been officially reported in the past.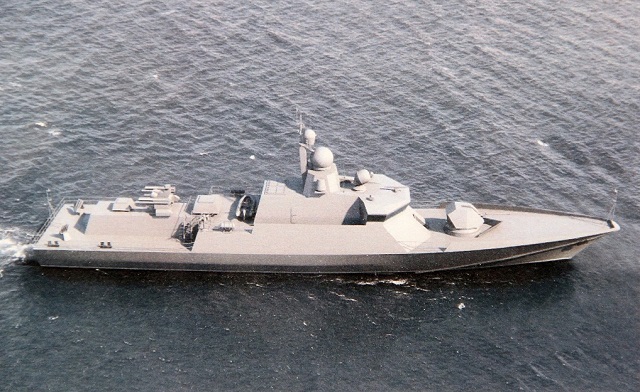 Artist impression of Project 22800 Corvette. Image via BMPD / Curious / forums.airbase.ru
Zelenodolsk shipyard received a state contract on 5 August 2016 to supply five corvettes of Project 22800. The beginning of the construction of these vessels at the Zelenodolsk plant has not officially been reported so far, but, as already reported by BMPD blog with reference to unofficial sources, the head order of the Zelenodolsk project 22800 project with the alleged name "Cyclone" and plant number 801 was started in 2016, following a construction transfer from Shipyard "Zaliv" in Kerch.

According to Zelenodolsk plant 2016 annual report, on September 29, 2016, the plant also concluded a state contract for the supply of three small missile ships of Project 21631.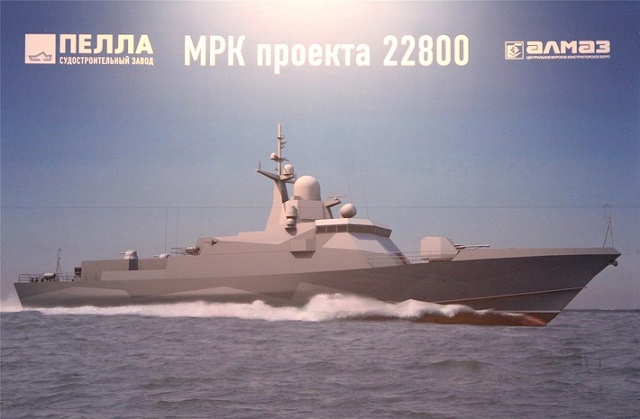 Artist impression of Project 22800 Corvette
Navy Recognition Comments:
The Project 22800 Karakurt-class guided missile corvette was developed by the Almaz Design Bureau. She measures 60 m long and 10 m abeam, with a draught of 4 m. Her main propulsion unit is diesel-electric and Russian-made. The ship has a maximum speed of 30 knots, a cruising range of 2,500 nm and an endurance of 15 days. Her armament will comprise a 100-mm or 76-mm versatile automatic gun and the Pantsir-M or Palma air defense missile/gun system. The corvette's superstructure will house an UKSK eight-cell VLS to accommodate the Kalibr-NK system's missiles.

Two Project 22800 guided missile corvettes, the Uragan and Typhoon, had been laid down by the Pella Shipyard in St. Petersburg. The third hull has been laid down by the Federal State Unitary Enterprise «Shipyard «Morye» in Feodosiya, Crimea in May 2016 and the fourth unit by Pella Shipyard in December. The lead ship was originally slated for delivery in 2017.