a
Naval Industry News - Russia
Russia's USC to Test Air-Independent Propulsion AIP System at Sea on Test Bed
The development of a sea facility designed to test the air-independent propulsion unit for diesel-electric submarines will begin this year, President of Russia's United Shipbuilding Corporation (USC) Alexei Rakhmanov told TASS.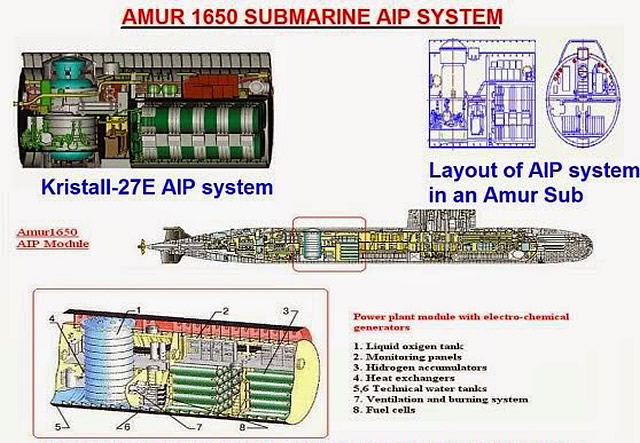 AIP system on the AMUR class submarine (for illustration purpose only)

"As of today, we have a coastal (stand) version. Our next task is to install it in a submarine section prototype to conduct all necessary sea trials in accordance with the customer's requirements," Rakhmanov said.

"This year, we will start making a sea test stand on our own initiative. It will allow us to check basic technical characteristics and solutions already tested ashore," he added.

According to Rakhmanov, the United Shipbuilding Corporation will test several engineering solutions for the air-independent propulsion unit and offer the best option to the Navy.

"There are several ways to provide the submarine with the required degree of endurance, in particular, the transfer to new-generation increased-capacity batteries or the use of elements stored onboard the submarine, which would allow producing electric power directly at sea," the corporation's president said.

The work on the air-independent propulsion unit for Russian diesel-electric submarines is being carried out by the Rubin Central Design Bureau. In 2015, the propulsion unit passed its ground trials and was planned to start undergoing tests in the Baltic Sea in 2016. Chief of the Russian Navy's Shipbuilding Department Vladimir Tryapichnikov said earlier that the Navy was planning to receive the air-independent propulsion unit for diesel-electric submarines in 2021-2022.



© Copyright 2017 TASS. All rights reserved. This material may not be published, broadcast, rewritten or redistributed.