a
Naval Industry News - France

Kership Launched the 1st Offshore Support and Assistance Vessel BSAH Loire for the French Navy
KERSHIP, a joint venture created by Piriou shipyards and DCNS, launched the first BSAH (Bâtiments de Soutien et d'Assistance Hauturiers or offshore support and assistance vessels) vessel for the French Navy. The vessel, set to be christened "Loire" was launched in Concarneau, Brittany on June 1st.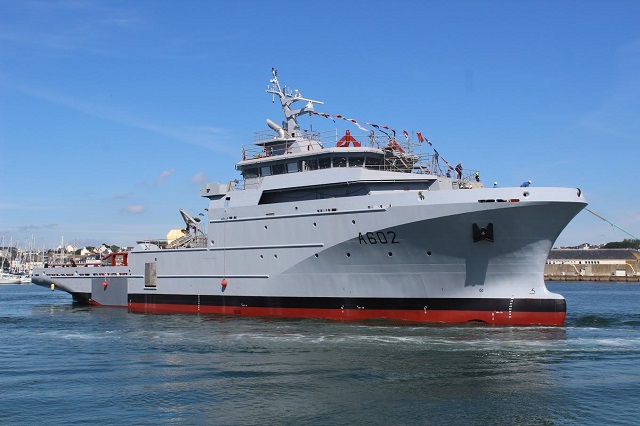 The first BSAH vessel, the future "Loire", was launched on June 1st 2017. Piriou picture.
The BSAH contract covers the design and construction of four ships of 70 meters in length with a full load displacement of about 2,600 tons. Two units of the firm tranche are scheduled for delivery in 2018 while the tranche 2 vessel are expected to be delivered in 2019. The BSAH are intended to be used by the French Navy in connection with the use of forces and in the field of "State action at sea".

BSAH Missions
The diversity of the missions led Kership to propose a Supply Vessel with a towing capacity of 80 tons of traction, a navigation speed of 14 knots and a significant endurance of about 30 days without refueling or resuply operations. They will be equipped with an 8 meters boat, several RHIBs and a crane for loading and unloading containers. BSAH will be able to accommodate divers, to carry weapons and ammunitions, to support submarines and surface ships, to tow underwater antennas, as well as to deploy a pollution control dam.

BSAH main caracteritics
Lengrh Overall: 70,30 m
Breadth: 15.80 m
Draft: 5.00 m
Deadweight: approx. 1000 T
Loading area on deck: 250 m²
Speed: 14 knots
Hull / superstructure: Steel
Amenities: 17 (crew) + 12 passengers
Engine: 2 x 2 650 kilowatts
Generators: 2 x 300 kWe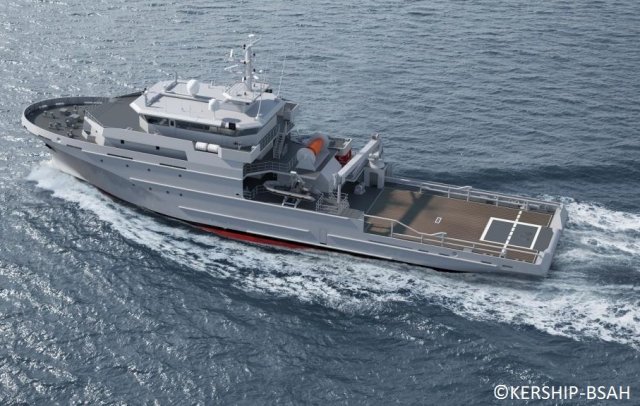 The French Navy ordered two more BSAH vessels to the two previously ordered in August 2015. Kership image.