a
Naval Forces News - Russia
2nd Project 677 Lada-class diesel-electric submarine for Russian Navy to be Launched in 2018
The Admiralty Wharves Shipyard in St. Petersburg in northwest Russia will float out the advanced Project 677 Lada-class diesel-electric submarine Kronstadt in 2018, the Defense Ministry's press office said.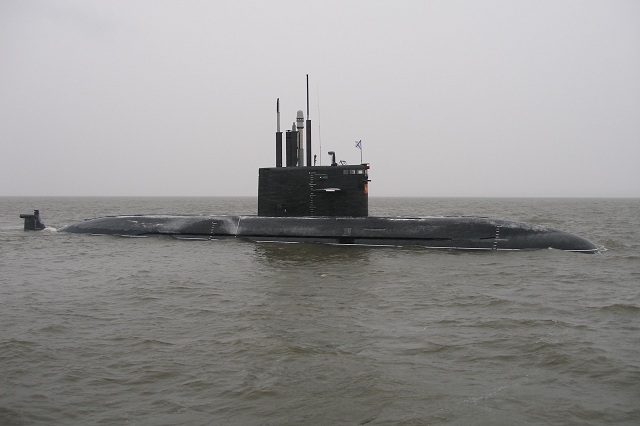 Lada class Diesel Electric Submarine (SSK) Project 677
The submarine designed for the Russian Navy's submarine forces will be armed with precision weapons, the press office added.

"Working on the submarine, research institutes and industrial enterprises have done more than 200 development and R&D works and, as a result, developed advanced effective small electronic warfare systems with reduced noise level and power consumption, shipborne equipment and new precision weapons," the press office said. "The diesel-electric submarine Kronstadt is scheduled to be launched in 2018," the report said.

The Project 677 submarines Kronstadt and Velikiye Luki are currently at various construction stages at the Admiralty Wharves Shipyard. The lead submarine St. Petersburg is being tested by the Russian Northern Fleet.

Project 677 SSKs belong to the fourth generation of non-nuclear submarines. They are designed to conduct independent operations against enemy surface ships and submarines in a given area, deliver strikes against ground targets using cruise missiles, and provide anti-submarine defense of the coastal zone. Their submerged displacement is 2,650 tons, the length is 68 meters. The full submerged speed is 21 knots and the surface range is 6000 miles at 7 knots. The boats are equipped with six 533mm torpedo tubes. Crew - 37 people.

© Copyright 2017 TASS. All rights reserved. This material may not be published, broadcast, rewritten or redistributed.