a
Naval Industry News - Singapore
ST Marine Launched the Fifth Littoral Mission Vessel for the Republic of Singapore Navy
Singapore Technologies Marine Ltd (ST Marine), the marine arm of Singapore Technologies Engineering Ltd (ST Engineering), successfully launched the fifth Littoral Mission Vessel (LMV), Indomitable, designed and built for the Republic of Singapore Navy (RSN).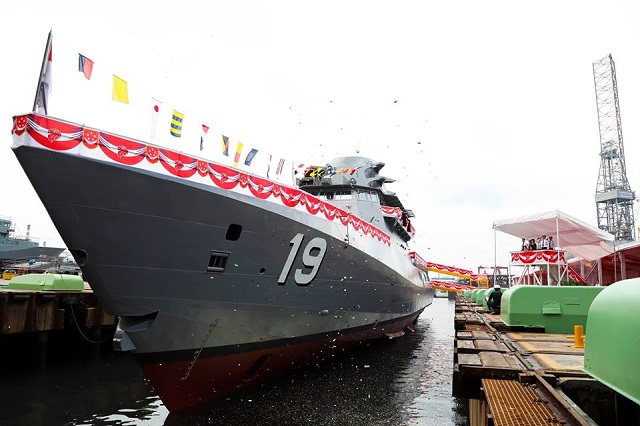 Launch ceremony of the fifth Littoral Mission Vessel for the Republic of Singapore Navy
The ceremony was officiated by Mr Tan Chuan-Jin, Speaker of Parliament. Mrs Tan Lik Ling, spouse of Mr Tan Chuan-Jin, took on the role as the lady sponsor in accordance with naval traditions to name and launch the vessel at ST Marine's Benoi Yard. The event was witnessed by many senior officials from the Ministry of Defence and the Singapore Armed Forces.

ST Marine was awarded the contract by MINDEF in 2013 to design and build eight LMVs for the RSN. The fleet of the eight LMVs will replace the Fearless-class Patrol Vessels designed and built by ST Marine in the 1990s.
Our video coverage of the RSN's LMV class
Speaking at the ceremony, Mr Tan highlighted how the RSN has progressed over the last 50 years. He said, "The LMV demonstrates how the RSN continues to strengthen its capabilities for the future and continues to safeguard our sea lines of communication. At 50 years, the RSN has come a long way since her humble beginnings, with just two wooden boats, to today's professional and well-respected maritime force."

The LMV programme is progressing well. The first LMV, RSS Independence, was commissioned during the RSN's Golden Jubilee on 5 May 2017 by Prime Minister Lee Hsien Loong. RSS Independence was most recently involved in search and rescue efforts for the missing crew of the Dominican-registered dredger JBB De Rong 19 that collided with Indonesian-registered tanker Kartika Segara. The other three previously launched LMVs, Sovereignty, Unity and Justice are presently undergoing sea trials.

To learn more about the LMV class, follow this link.