---
By Ben Rimland

Local media reports and official documentation suggest that the Defense Ministry's Acquisition and Technology Logistics Agency (ATLA) is making steady progress on operationalizing a new supersonic anti-ship missile, the ASM-3 (formerly known as the XASM-3). As Navy Recognition has previously reported, Japan's Ministry of Defense (MOD) plans to begin mass production of the weapon in 2018 after having completed development at the end of 2017.
---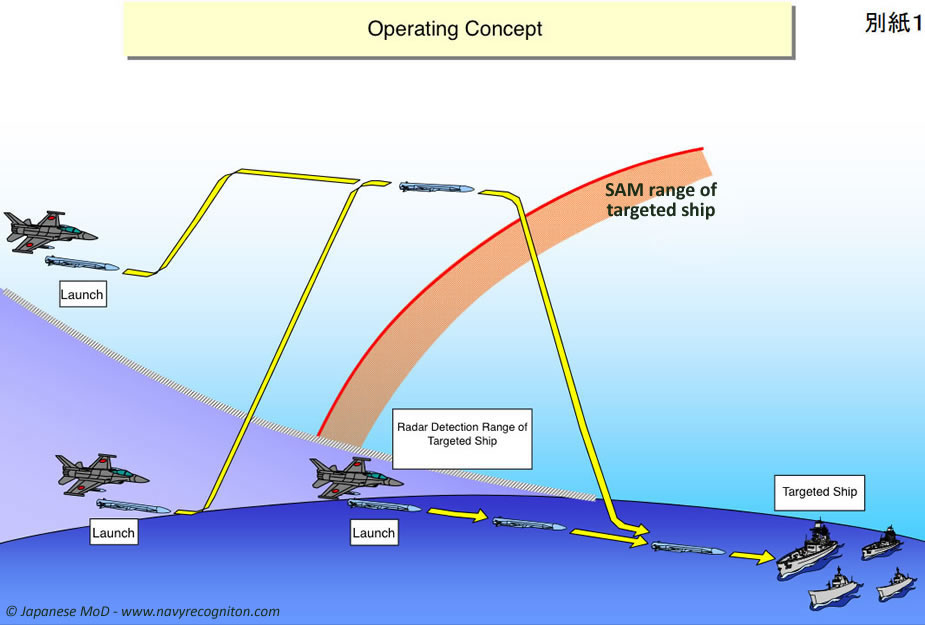 A "concept of use" infographic published by Japanese MOD (Ben Rimland/Navy Recognition translation)

---
A "concept of use" infographic published by MOD provides a look at how the Japan Air Self-Defense Forces (JASDF) may employ the weapon in a contingency. The missile can take either a direct course of travel when launched low near the edge of the targeted vessel's radar range, or instead it may take a "pop-up" profile, climbing high from a low angle of launch or instead staying at an already high altitude from an elevated attack approach. Survivability of the firing F-2 is of chief concern in either attack scenario. Per the infographic, a direct and low attack allows the F-2 to fly under the radar, while the "pop-up" profile may put the F-2 within radar detection range, but beyond the scope of the targeted ship's SAMs.
---
Two XASM-3 missiles fitted on a Japan Air Self-Defense Force F-2 Fighter during recent tests (May 2017). Picture via twitter user @MR2AW11SP

---
A recent report in the Mainichi Shimbun provides further detail on the history of the weapon's development and ATLA's plans for further utilizing the guidance and propulsion technology of the ASM-3. The weapon's development period ran from 2003 to 2017, during which a total of 15 test launches proved the design's viability. Research and development costs totalled 39 billion yen, approximately $367 million. MOD is also planning on employing the ramjet propulsion system and inertial/composite guidance technology of the ASM-3 to design a land-based, truck mounted variant, as well as a ship-based version with longer range (ed. note: The XSSM which Navy Recognition covered previously).

Ben Rimland is an independent researcher on Asia-Pacific security issues. His academic research pertains to Japanese defense policy and American security policy in Asia. He can be found on twitter at @JPNsecuritywonk
---
Video showing Japan Air Self-Defense Force F-2 Fighter test launching a XASM-3 missile. ATLA video.

---
About ASM-3 supersonic anti-ship missile
Designed and manufactured by Mitsubishi Heavy Industries (MHI), ASM-3 is capable of reaching Mach 3 speeds thanks to its ramjet engine fed by two air intakes (in a similar fashion to MBDA's Meteor air to air missile or to the French ASMP-A air-launched tactical nuclear missile).
ASM-3 basic specifications:
Full length: 6000 mm
Full width: 950 mm
Missile body diameter: 350 mm
Maximum speed: Mach 3 or more
Firing range: 80nm (about 150km) or more
Weight: 940kg
Power: Integral Rocket Ramjet
Navigation and seeker: inertial / GPS (intermediate stage) + active / passive seeker (terminal phase)
---