---
Northrop Grumman has been awarded a US$164.3 million contract This modification provides for the procurement of one Japan configuration E-2D Advanced Hawkeye aircraft for the government of Japan, the US DoD announced on September 5, 2018.
---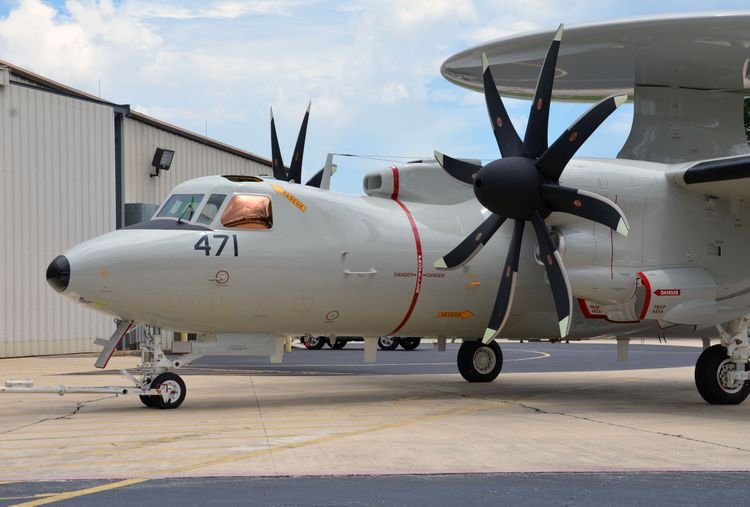 Japan's First E-2D prepares to take flight at the Northrop Grumman Aircraft Integration Center of Excellence in St. Augustine, Florida.
---
Work will be performed in US, France, Italy, Canada, and UK and is expected to be completed in March 2020. The Naval Air Systems Command, Patuxent River, Maryland, is the contracting activity, the Pentagon added.
In November 2017, Northrop Grumman Corporation successfully announced it completed the first flight of Japan's E-2D Advanced Hawkeye at the company's Aircraft Integration Center of Excellence in St. Augustine, Florida.
The Japan Ministry of Defense competitively selected the E-2D Advanced Hawkeye in 2014 to fulfill the nation's airborne early warning requirements. Northrop Grumman began production in 2016 on two aircraft now in the final production phase.
As the largest Hawkeye operator outside of the U.S. Navy, JASDF also has 13 E-2C aircraft operating since 1983.

Compared to legacy "C" model Hawkeyes, the "D" model features a new environmental control system (with better cooling capacity), a new digital ESM, a new electrical system (with vast margin for future growth), new mission data processing (based on COTS components, high-speed processors and a fiber-optic LAN), upgraded communications...
---