a
Naval Industry News - UAE
Abu Dhabi Ship Building Launches First Indigenously-Built Ghannatha Missile Boat for the UAE Navy
Abu Dhabi Ship Building, the leading shipbuilder and naval support services provider in the Gulf region, has today launched its first Ghannatha Missile Boat at its Mussafah shipyard facilities. The Ghannatha Phase II program was awarded to ADSB in 2009. ADSB was commissioned to construct 12 new Missile Boats and retrofit the existing ADSB-built Ghannatha Phase I troop carriers into gun boats and mortar boats.

As with the previous Phase I program, ADSB's strategic partner involved in the project is Swedeship Marine from Sweden, which is constructing three of the 12 missile vessels with the remaining nine vessels built at ADSB. Abu Dhabi Systems Integration (ADSI) is responsible for all integration activities, including the complex combat equipment fitted into the vessel.

The Ghannatha Phase 2 program for the UAE Navy is one of the most significant programs currently under construction in the region. The vessel's outfit includes the latest propulsion/auxiliary systems and also the latest state-of-the-art weapons, sensors and combat management system making it one of the most compact small-size naval fighting platforms available.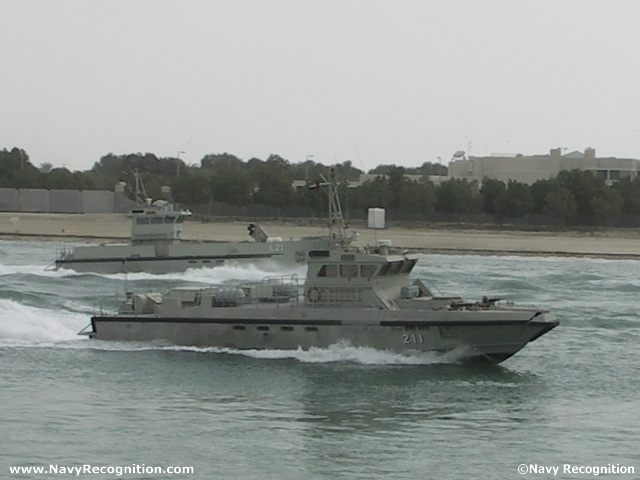 Ghannatha Phase I troop carriers
The vessels carry a surface-to-surface missile system, and are also fitted with a main gun forward and small gun located aft. The vessels, each measuring 27 metres, are manufactured using marine-grade aluminium alloy and are powered by twin MTU marine diesel engines coupled to Rolls Royce waterjets, allowing the vessels to travel at speeds in excess of 35 knots.

Marking yet another launch day at ADSB, CEO Mohamed Salem Al Junaibi commented: "We are again delighted to be able to launch another vessel for the UAE Navy. This project has potentially redefined inshore naval capability concepts. We believe that having a vessel under 30 metres fitted with two guns and a missile system will undoubtedly gain popularity for other regional operators. We would also like to thank the UAE Navy for giving us the opportunity to build this potentially new concept and also thank them for their support and co-operation on the project."

All 12 vessels will be completed and delivered to the UAEN in a rolling programme with final delivery of the last Missile Boat scheduled for 2014.