a
Naval Defense Industry News - UK, Sweden
BAE Systems successfully completes sea trials for its new Bofors 40 Mk4 40mm naval gun system
BAE Systems has successfully conducted the first ship-borne live fire testing of its future
Bofors 40 Mk4 40 mm single-barrel naval gun system.
The sea trials took place in Sweden (Baltic Sea) with the gun mounted on an older Swedish Navy picket ship.
The latest version of the 40Mk4 naval gun uses electrical power rather than hydraulic systems to aim the gun. As a result is it at least 40 per cent lighter, smaller and cheaper.
Around 60 rounds were fired during the trials from the old Swedish Navy picket vessel HMS Jageren, mainly to test the feed mechanism and stabilization. The trials were documented both from another boat and a helicopter.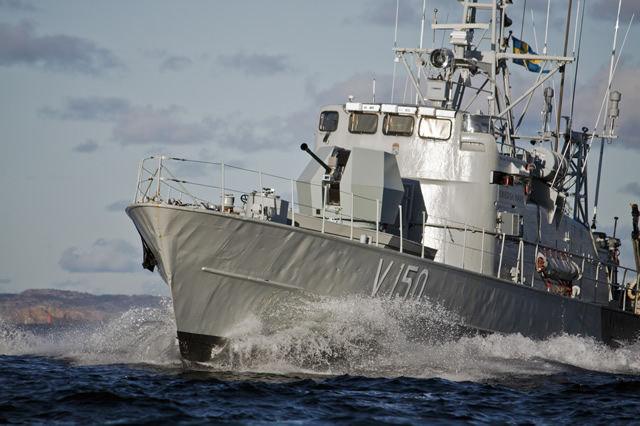 BAE Systems 40 Mk4 gun mounted on HMS Jägaren patrol boat for the sea trials
(Picture: BAE Systems)
While the gun was not connected to the ship's fire control system (HMS Jägaren only has an old analogue system), it did use its own gyro-controlled stabilization.

The latest version of the gun began life during fall of 2009 as a result of an in-depth market analysis. During the development every component, except for the gun itself, was scrutinized and replaced with more up-to-date, smarter and more cost-effective alternatives.

Integrated Systems Director Ulf Einefors commented: "We have now verified the complete prototype system with good results. We have met all schedules and budgets and matched or exceeded all pre-defined requirements"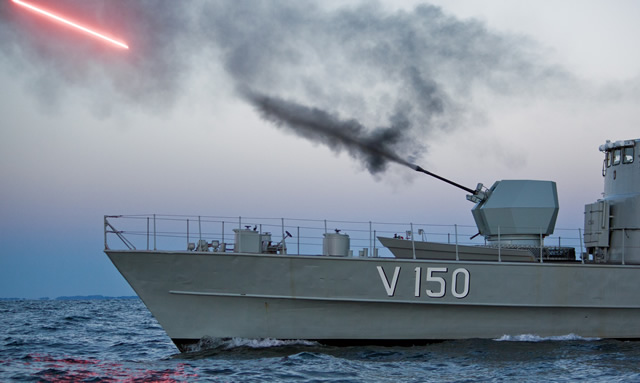 40 Mk4 gun during firing tests
(Picture: BAE Systems)
The basic demands included maintaining or increasing target engagement performance, introducing more modern technology and a significantly lower price than the predecessor 40Mk3.
The new Mk4 weighs about 2 metric tonnes, 1.5 tonnes less than the predecessor, which means that it can be used on much smaller vessels, resulting in access to a much wider market. The Bofors 40 Mk4 naval gun system was designed to be an agile, flexible weapon systems that enable a lightning-quick response. Its low weight and compact dimensions combine with a long range and a high rate of fire. It has the capability to rapidly switch between optimised ammunition types, including programmable 40mm 3P all-target ammo.
Link to Bofors 40 Mk4 naval gun system datasheet