a
Naval Forces News - USA
U.S. Navy Officers tasked to investigate collision of submarine with cruiser off Florida
U.S. Fleet Forces Command (USFF) assigned a flag officer to lead an administrative investigation and established a safety board to review the facts and circumstances Oct. 15 that led to the collision between a Navy submarine and an Aegis cruiser off the coast of Florida Oct. 13.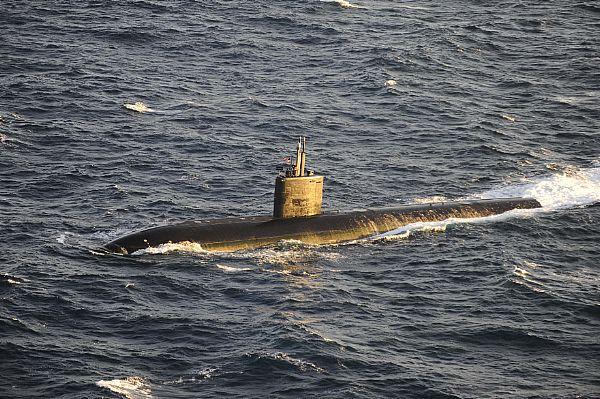 ATLANTIC OCEAN (Oct. 14, 2012) The Los Angeles-class attack submarine USS Montpelier (SSN 765) operates under its own power following the collision.
(Picture: US Navy)
Vice Adm. Michelle Howard, deputy commander of USFF, appointed Rear Adm. Ann Phillips, commander of Expeditionary Strike Group (ESG) 2, as the investigating officer to lead a command investigation into the collision of USS Montpelier (SSN 765) and USS San Jacinto (CG 56).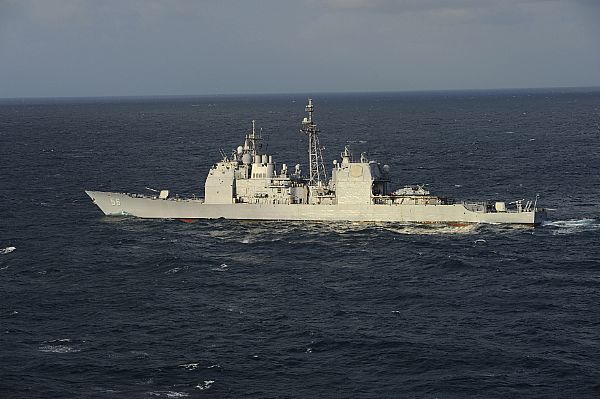 ATLANTIC OCEAN (Oct. 14, 2012) The Ticonderoga-class guided-missile cruiser USS San Jacinto (CG 56) operates under its own power following the collision.
(Picture: US Navy)
The investigation is administrative in nature and will look into the cause of the collision and determine any fault, neglect, or responsibility. Additionally, the investigation will identify any shortfalls in procedures and make recommendations for corrective action.

USFF has also directed a Safety Investigation Board (SIB), which will be led by Rear Adm. Joseph Tofalo, commander of Submarine Group (SUBGRU) 10. The SIB will identify hazards and causal factors for the collision, and make recommendations to prevent future mishaps.

Montpelier arrived in port Kings Bay, Ga., and San Jacinto arrived in port Mayport, Fla., Oct. 14. Overall damage to both the ship and submarine is being evaluated. The propulsion plant of the submarine was unaffected by the collision.

Both Montpelier and San Jacinto were conducting routine training at the time of the accident.

From U.S. Fleet Forces Public Affairs