a
Naval Industry News - France
DCNS launches Normandie FREMM, second Frigate of the Aquitaine class for the French Navy
On october 18, 2012, DCNS launched the Normandie FREMM frigate in the presence of French Minister of Defence, and Minister of Economy and Finance. This success underlines once again the industrial dynamism of DCNS: six multi-mission frigates are currently under construction.

"The FREMM program reflects the industrial performance of the DCNS group while complying with the technical and economic requirements of its customers. This performance is all the more remarkable as it is done in the context of a competitive insourcing of our industrial activities. Indeed, we have chosen not to relocate in countries with low costs. We are proud to contribute, along with our partners, to the development of employment in our activity areas" said Patrick Boissier, Chairman and CEO of DCNS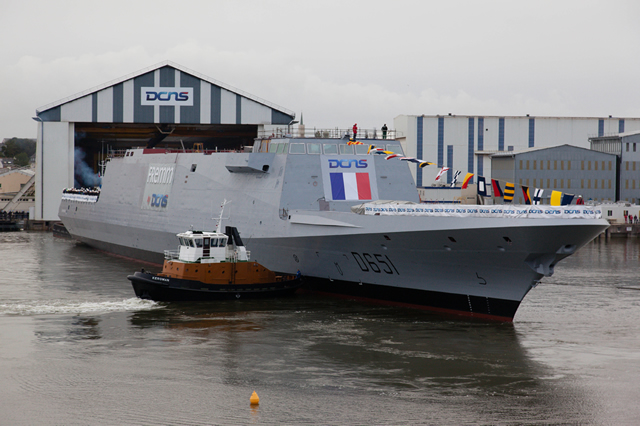 The Normandie FREMM Frigate, second ship of Aquitaine class
is launched at DCNS shipyard in Lorient
(Picture: DCNS)
Over the coming months, DCNS teams and their subcontractors will continue assembling the Normandie FREMM, with the next major step consisting in the installation of masts hosting the main ship's sensors (radars, antennas, cameras, jammers ...).

Third of the FREMM series built by DCNS, the Normandie FREMM saw its construction begin in October 2009. This new generation frigate will be implemented by a small crew of 108 sailors (ie less than half the previous generation frigates). The FREMM will be capable of versatile missions such as air defense, anti-surface and anti-submarine warfare.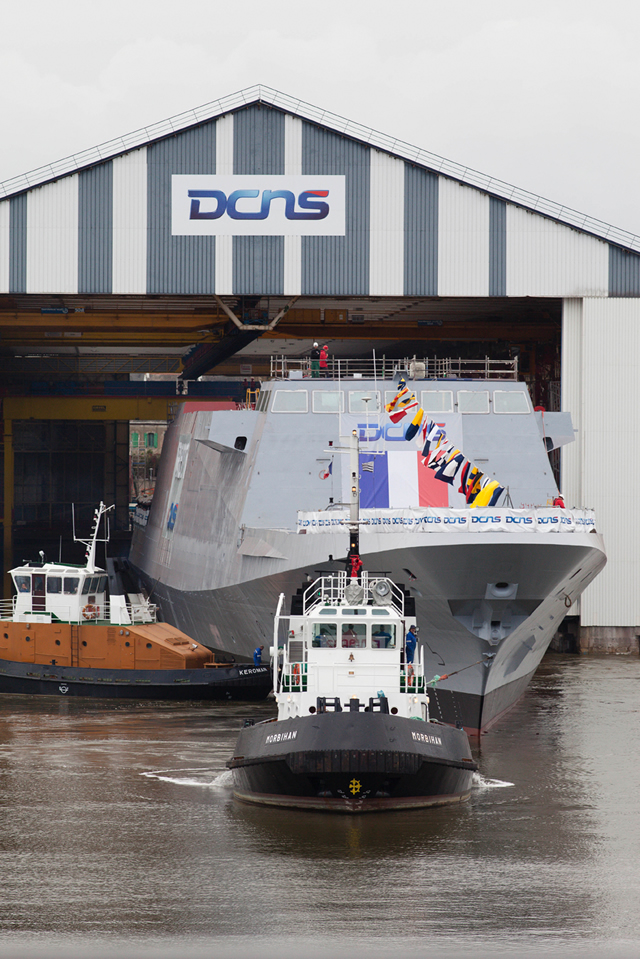 The Normandie FREMM Frigate during its launch on 18/10/2012
(Picture: DCNS)
For DCNS, the FREMM program is the construction of twelve frigates. Eleven are for the French Navy. They were ordered by the French Procurment Agency (DGA). The twelfth is conducted on behalf of the Royal Moroccan Navy.

FREMM frigates are built with DCNS as prime contractor. These are amongst the most technologically advanced and competitive ships on the market. Heavily armed, they implement the most advanced weapons systems and equipment, such as Herakles multifunction radar, Aster surface-to-air missiles, Exocet MM40 anti-ship missiles and MU 90 torpedoes.

To date, six FREMM are under construction at the DCNS Shipyard in Lorient:
• The Aquitaine, first of the FREMM series, will be delivered to the French Navy by the end of 2012.
• The Mohammed VI, second of the series, for the Royal Navy of Morocco, was set afloat in September 2011.
• The Normandie, third ship in the FREMM series, has been set afloat.
• The Provence, fourth of the series, will soon be assembled
• The Auvergne and Languedoc, fifth and sixth ships of the FREMM series saw their construction begin respectively in September 2011 and August 2012.