a
Naval Defense Industry News - USA, Norway
First Kongsberg Joint Strike Missile (JSM) fitted on the F-35
Development of the new Joint Strike Missile (
JSM, the air launched variant of the NSM - Naval Strike Missile
) is progressing, and 27 February an important milestone was passed when the aircraft manufacturer Lockheed Martin for the first time fitted one of the missiles to a F-35 at its facility in Ft Worth, Texas.
This formed part of a "fit check" of the JSM on an external pylon on the F-35 and is part of Phase 2 of the development of the JSM missile that was approved by the Norwegian Parliament in 2011. The fit check confirms that the missile is able to be fitted for external carriage on the F-35, and will be followed later in 2013 by similar tests aimed at verifying that the missile fits within the internal weapons bay of the F-35.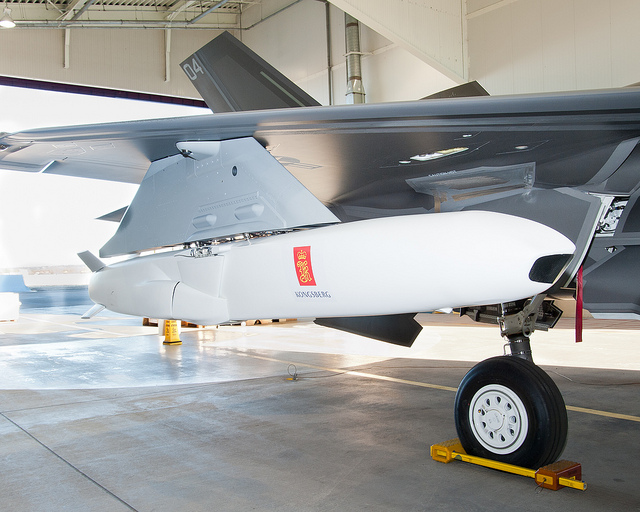 On 27 February 2013 Lockheed Martin carried out the first external fit check of the JSM on an F-35.
(Photo: Lockheed Martin)

- Although we are still far away from any operational use of the JSM this shows that the development of the missile is moving forward. As part of Phase 2 of the development program Lockheed Martin has received through the JSF Program Office that includes a requirement for such tests on all variants of the F-35, as well as conducting internal fit checks in the weapons bay of the CTOL version that Norway will buy, explains Norwegian F-35 Program Director Anders Melheim.
JSM is the only long-range anti-surface missile that is specifically designed to fit within the internal weapons bay of the F-35, and is being developed by the Norwegian company Kongsberg in partnership with the Norwegian Ministry of Defence. The missile provides the F-35 with operational characteristics, and enables it to fight the objects protected by advanced defense systems. This is vital in order to be able to perform all types of operations in the defense of Norway. JSM is scheduled to undergo a "Critical Design Review" in summer 2013, which will confirm that the design is sufficiently mature to be able to continue the integration efforts and that the missile is able to be a formal candidate for integration on the F-35.
- We are working hard to ensure that Norwegian F-35s receive the operational capabilities we need, and therefore we believe that JSM is very important. At the same time it provides significant opportunities for Norwegian industry, and it is an important part of the industrial cooperation we are working to put in place in relation with the procurement of new combat aircraft, concludes Melheim.
From: Norwegian Ministry of Defence


Link to NSM/JSM technical datasheet