a
Naval Industry News - France, Australia
DCNS opens a subsidiary in Australia to better market its SMX OCEAN SSK for the RAN
French naval defense group DCNS opened today a subsidiary in Australia named "DCNS Australia". The move, which coincides with an official visit to Australia by French president François Hollande with Thales and DCNS CEOs alongside, is aimed at getting closer to the Royal Australian Navy (RAN) and ultimately better marketing the SMX OCEAN submarine when the opportunity arises.
Xavier Mesnet presented the SMX OCEAN heavy SSK exclusively to Navy Recognition a few weeks before Euronaval 2014
SMX Ocean SSK:
SMX Ocean is a new heavy conventional submarine (SSK) which was unveiled by DCNS at Euronaval 2014. It is based on the Barracuda SSN currently under construction. Xavier Mesnet (Submarines Marketing Director at DCNS) told Navy Recognition: "SMX OCEAN is more than a concept ship, it is a concept ship near to be realized".

The focus of DCNS engineers in developing the SMX OCEAN was put on endurance and high sustained speed. The 4,700 tons SSK was designed for an endurance of 14,000 nautical miles (3 months autonomy) and a continuous transit speed of 14 knots for 1 week.

2nd Generation fuel cell:
To achieve such performance, the propulsion system is based on DCNS' revolutionary second generation fuel cell. This solution combines several key DCNS innovations in fuel cell technology and has some specific advantages:
- the hydrogen produced on demand avoid storage contraints and hazards,
- the absence of pure-oxygen in the cells allows longer life cycle,
- the fuel is easily available worldwide.

The 2nd generation fuel-cell encompasses:
- a compact oxygen module,
- an energy module, composed of a fuel processor and the cells to produce electricity,
- a control system, fully integrated within the platform management system, operated from the control room,
- its own ancillaries: trimming tank, cooling systems, safety devices. There is no impact on the ship equilibrium and the crew comfort.

The fuel processor generates pure hydrogen. Pure oxygen is mixed with nitrogen to create the air used by the dual-technologies fuel-cells. These fuel-cells combine oxygen and hydrogen, to produce water and electricity.

The 2nd generation fuel-cell increases submerged endurance to three weeks (at 4kts); a capability that confers a decisive advantage in certain theatres of operations.

This is a technological breakthrough compared to existing AIP solutions (even in Europe) because the system generates less oxidation and increases the lifetime of the propulsion system. In addition, the maintenance cycle of the fuel-cell now matches the maintenance cycle of the whole submarine while existing solutions are very maintenance intesive. This technology exists since DCNS built a shore based functional model of the 2nd generation fuel-cell and has been testing it for many years now;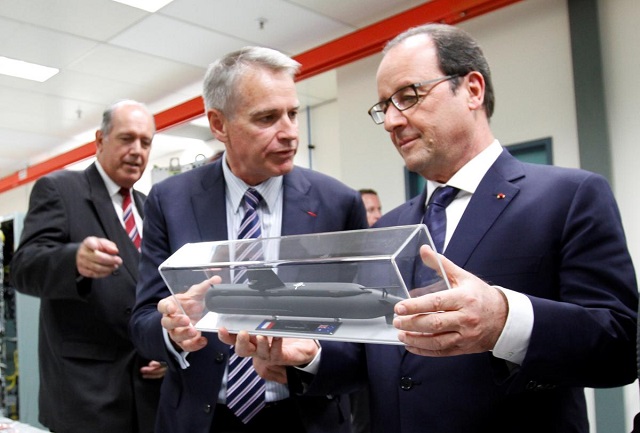 French President and Thales Australia CEO Chris Jenkins with a Collins class SSK model
Picture: Thales

French Officials visit to Australia:
On November 18, French President François Hollande visited the Thales Australia facility in Rydalmere. According to Thales, President Hollande accompanied by Australian Minister for Defence Senator David Johnston viewed the company's world-leading underwater systems and sonar capabilities, now firmly established in Australia after 30 years of Thales and French Government transfer of technology, expertise and investment.

During the visit, the President and other VIPs including French Ambassador Christophe Lecourtier, Thales Executive Vice President Pierre Eric Pommellet and CEO of DCNS Herve Guillou, focused on Thales Australia's manufacture of Scylla submarine sonars for Australia's Collins Class submarines, including the latest Flank Array upgrades and integration capabilities for SEA 1000 Future Submarine systems. President Hollande's visit follows the G20 Leaders' Summit held on 15-16 November in Brisbane.


From left to right: SMX OCEAN by DCNS, A26 by SAAB, So-ryu- class SSK of the JMSDF and Type 216 by TKMS.

An open tender soon?

Several media reported in September that Australia had already selected a Japanese solution. It is now clear that these early reports were not accurate and there is now a growing likelyhood that the Australian government will launch an open selection process. The tender however would probably not be launched until the next Australia's Defence White Paper is published (due in mid-2015).


Contenders:

According to the Australian Financial Review, DCNS is already in discussions with ASC (the builder of the Collins cass SSK) for a possible local construction of the future submarines. The other likely contenders to take part in the australian tender for the Collins class replacement are:
» The So-ryu- class from Japan: It is an existing design (first ship of the class launched in 2009) with a surfaced displacement of 2900 tonnes and a length of 84 meters.
» The
Type 216
from TKMS (Germany): It is a concept with a surfaced displacement of 4000 tonnes and a length of 90 meters.
» The Kockums A26 from Saab (Sweden): It is a concept with a surfaced displacement of 1900 tonnes and a length of 63 meters.