a
Naval Forces News - France
French Navy Took Delivery of Two Rafale M Multi-Role Fighter Aircraft in Latest F3 Standard
On April 2 and July 9 respectively, two Rafale M in the latest "F3" standard (the M42 and the M43) were delivered by Dassault Aviation to the French Navy "Base d'aéronautique navale" (Naval Air Station) of Landivisiau in Brittany. The M42 was assigned to Flottile (Fighter Squadron) 12F while the M43 will soon join Flottile 11F.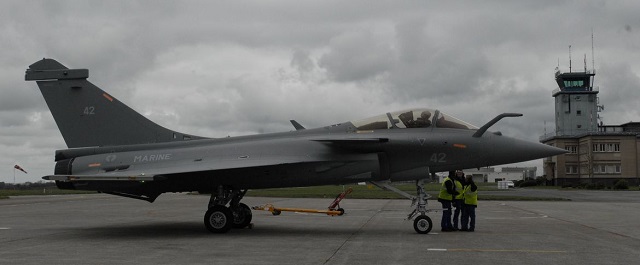 Rafale M F3 "M42" at the French Navy Naval Air Station Landivisiau in Brittany. Picture: French Navy
By 2017, the French Navy expects to receive the last of the ten Rafale M "F1" upgraded to "F3" standard as well as three more new aircraft. The total number of Rafale M fighters in the latest "F3" standard deployed by the French Navy will then be 42.

In October 2014, the French Navy took delivery of the first Rafale M upgraded to the F3 standard.
The transition from the F1 standard to the F3 standard involves the following changes:
» New modular electronic computers,
» New cockpit screens,
» Changes to the aircraft's electrical wiring,
» Upgrading of the Spectra countermeasures system,
» Changes to the RBE2 PESA radar (interchangeable with the new AESA antenna),
» Changes to the weapon store stations.
The delivery of the retrofitted Rafale Marine aircraft will be staggered over a period up to 2017.
The F3 standard provides the Navy and Air Force Rafale with complete versatility to carry out the following missions:
» Interception and air-to-air combat with 30mm gun and Mica IR/EM missiles (+ Meteor missiles from 2018 onwards).
» Ground support with 30mm gun, GBU-12/24 laser-guided bombs and Hammer precision-guided bombs.
» In depth strikes with Scalp cruise missiles.
» Sea strikes with the Exocet AM39 Block 2 missile and other air-to-surface weapons.
» Real-time strategic and tactical reconnaissance with the Areos pod.
» In-flight refueling from one Rafale to another ("buddy-buddy").
» Nuclear deterrence with the ASMP-A missile.
The French Carrier Air Group consists of three fighter Flotilles (11F, 12F and 17F), The E-2C Hawkeye Flottile (4F) and a detachment from Helicopter Flottile 35F for Search and Rescue. Flotilles 11F and 12F fly on Rafale M while the 17F fly on Super Etendard Modernisé (SEM). In the summer of 2016, SEM will be removed from service and aircraft carrier Charles de Gaulle will transition to an "100% Rafale" fighter air wing.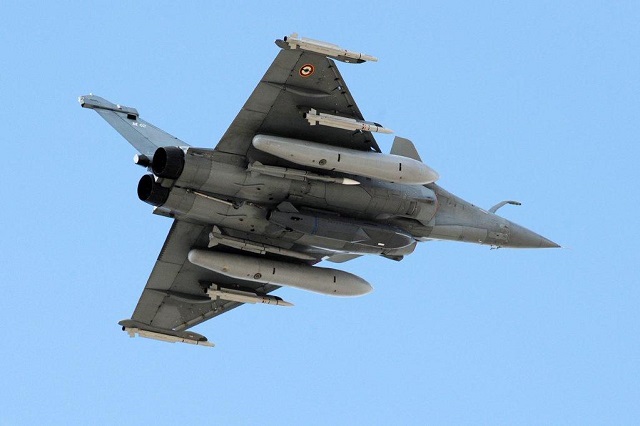 The Rafale M F3R during the evaluation campaign with the French Navy. Picture: French Navy
Future F3R standard
In December 2014, the French Navy
evaluated the future F3R standard
of the Rafale with Meteor missiles.
Compared to the latest F3 standard currently in service, the future F3R standard will also allow the Rafale M to carry the new laser designation pod in its air to ground missions and a new refueling pod essential in operations around the CSG (carrier strike group).
The first Rafale M F3R is expected to enter operational service with the French Navy around 2020.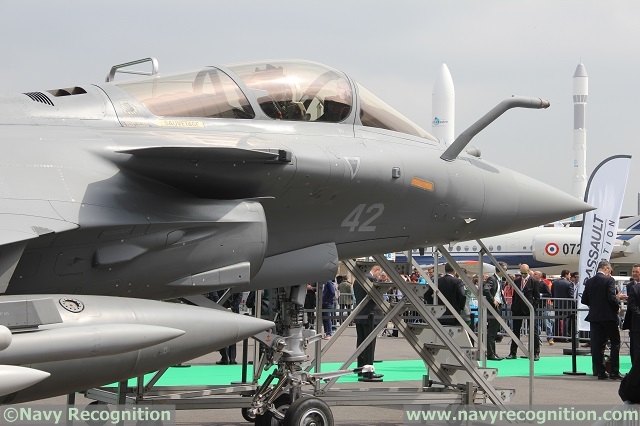 Rafale M F3 "M42" was on static display at Paris Air Show 2015