a
Naval Defense Industry News - USA
Raytheon awarded contract for AN/AQS-22 Airborne Low Frequency Sonar for US and Allied Navies
The U.S. Navy has awarded Raytheon Company a $33 million contract for the production, integration, testing and delivery of AN/AQS-22 Airborne Low Frequency Sonar (ALFS) systems. The contract includes an option for additional systems for U.S. inventory and potential Foreign Military Sale. The option, if exercised, would bring the cumulative value of this contract to more than $98 million.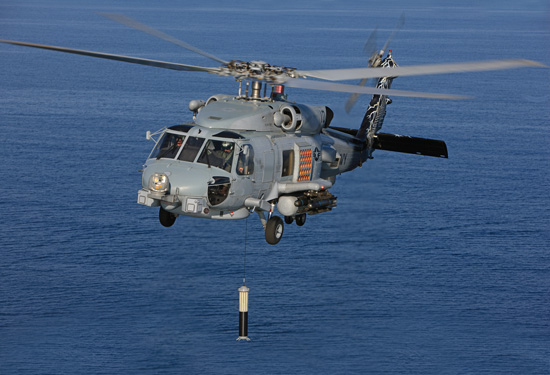 The ALFS integrated dipping sonar system enables the MH-60R to accomplish assigned undersea warfare missions. (Photo credit: Lockheed Martin)
"Access and safe passage on the world's oceans are critical to our global interests, economy and security," said Raytheon's Kevin Peppe, vice president of Integrated Defense Systems' Seapower Capability Systems business area. "ALFS' proven capabilities make it the U.S. Navy's airborne anti-submarine warfare sensor of choice, able to effectively ­ sense and detect the otherwise unseen threat of enemy submarines."

As the primary undersea warfare sensor for the Navy's MH-60R multi-mission helicopter, ALFS provides significantly improved airborne anti-submarine warfare capability. ALFS is highly integrated with the helicopter and with the MK 54 lightweight torpedo, providing the full detect to engage ASW mission capability from the helicopter.

Raytheon began low-rate initial production in 2002 and has delivered more than 130 ALFS systems. Eight systems have been delivered to the Royal Australian Navy under U.S. Navy Foreign Military Sale, with an additional 17 planned for delivery by 2016. As international interest continues to grow, ALFS is emerging as the ASW sensor of choice for allied navies worldwide.

About AN/AQS-22
ALFS is the mission-critical ASW capability for the defense of U.S. Navy strike groups, providing submarine detection, tracking, localization, classification, acoustic intercept, underwater communication and environmental data collection. It is the only in-service dipping sonar with multi-frequency operation, allowing the system to adapt its performance to varying environmental conditions. With a rapid search rate and extended range, ALFS identifies threats sooner, enabling it to cover a larger area. The system's longer detection range over a wider area also reduces the number of helicopters required to perform active anti-submarine warfare screening.

End-to-End Anti-Submarine Warfare Capability
Coupling ALFS with the MK 54 lightweight torpedo, Raytheon can deliver the full anti-submarine warfare engagement capability. The MK 54 is the U.S. Navy's next-generation ASW weapon deployed from surface ships, helicopters and fixed-wing aircraft to detect and attack underwater targets. Integrated onboard the MH-60R, MK 54 is the primary weapon for the helicopter's ASW mission.

The advanced technologies of these systems deliver a comprehensive, end-to-end solution – detect to engage – enabling the Navy to safely and effectively execute its mission.