a
Naval Industry News - Germany
MSPO 2015: TKMS Was Showcasing its Type 212A SSK for the Polish Navy Orka Submarine Program
At MSPO 2015, the International Defence Industry Exhibition in Poland which took place in Kielce from the 1 to 4 September 2015, Germany's TKMS was showcasing its Type 212A diesel electric submarine (SSK). TKMS is pitching the 212A for the Polish Navy Orka program which calls for the procurement of two diesel electric submarines capable of launching cruise missiles.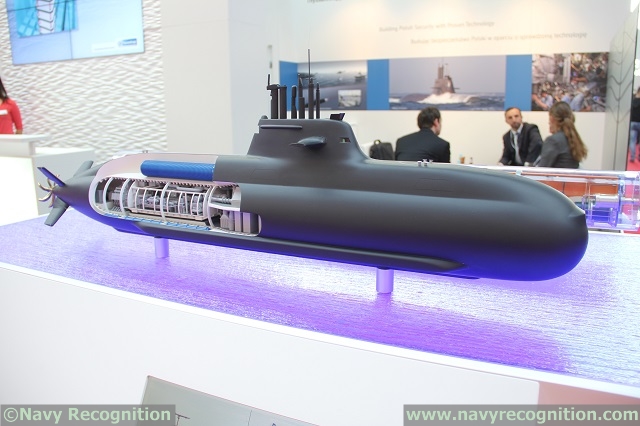 Type 212A SSK scale model on TKMS stand during MSPO 2015

Type 212A
TKMS presents the Type 212A as "the pinnacle of German submarine technology". 212As have been built in Germany in two batches (of four and two SSKs) as well as in Italy under license (four submarines). The 212A air-independent submarine is compact and features high payloads for sensors, communication equipment, weapon control systems and weapons. Great attention was paid for efficiency and energy management on board. According to TKMS, the combination of these factors together with the non-magnetic construction and acoustically optimized equipment results in submarines that are nearly impossible to detect.

TKMS representatives at MPSO 2015 explained that one of the requirements of the German Navy when designing the 212 was to have "no limitations in dived condition anywhere in the Baltic sea". German Navy Type 212As routinely dive immediately after leaving their Eckernförde base despite the shallow littoral waters which proves that the submarine is adapted to operations in the Baltic sea. In addition, they explained that "our fuel cell technology has already been proven with many customers and NATO navies".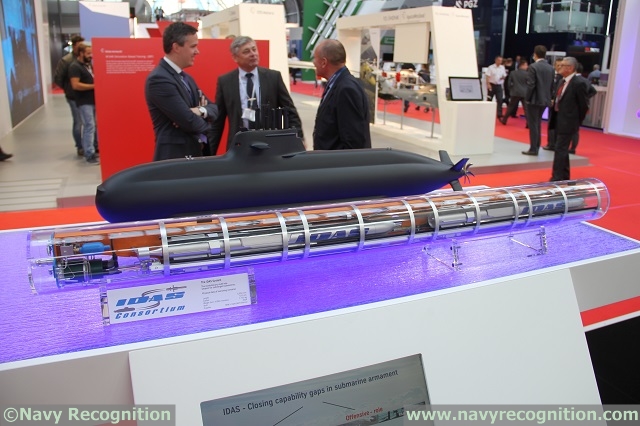 IDAS and Type 212A SSK scale model on TKMS stand during MSPO 2015

Tomahawk Cruise Missile
While DCNS (TKMS competitor in the Orka program) is offering the MBDA's Naval Cruise Missile with the Scorpene submarine, TKMS is ready to integrate the Raytheon made Tomahawk cruise missile (should the United States give their green for export). In March 2015, Reuters reported that Poland's Defence Minister Tomasz Siemoniak asked the United States whether the European nation could buy Raytheon's Tomahawk missiles for its future submarines. "One of the capabilities we want them (the submarines) to have is cruise missiles," Siemoniak told public radio, following a report by daily newspaper Dziennik Gazeta Prawna.

With a range of approximately 1,000 statute miles, the Tomahawk Block IV missile is a surface-and submarine-launched precision strike stand-off weapon. Tomahawk is designed for long-range precision strike missions against high-value and heavily defended targets. More than 2,000 Tomahawks have been employed in combat. More than 500 Tomahawk flight and production validation tests have been completed. The missile is integrated on all major U.S. surface combatants, as well as U.S. and U.K. sub-surface platforms, including the Los Angeles, Virginia, Ohio, Astute and Trafalgar class submarines.

Talking to Navy Recognition at MSPO 2015, TKMS representatives explained that the Type 212A SSK torpedo handling system is already compatible with Tomahawks because it follows NATO STANAG standards. The only unknown is how many equipment cabinets or boxes are required to fit Tomahawks in a submarines (Cruises missiles typically require additional equipment such as weapon board interface, power interface, electronic interface...). TKMS say they can integrate Tomahawk without any issue however, having integrated 55 submarines from 7 navies with missiles. The representatives gave us the examples of Greece's Type 214 and Turkey's Type 209 fitted with submarine launched Harpoon anti-ship missiles.

Nobody from Raytheon at MSPO was willing to comment on the Tomahawk request by Poland. Navy Recognition understand the U.S. Government has yet to make a final decision. So far, the United States exported its cruise missile to only one foreign customer: The United Kingdom, one of their closest allies. We raised the issue to the TKMS representative and asked what would happen to their bid should the U.S. refuse to export Tomahawk missiles to Poland. They replied that "TKMS is confident it can integrate any type of cruise missile selected by the Polish government". This raises other questions however. Would France be ready to export its cruise missile technology for integration on a non-French submarine ?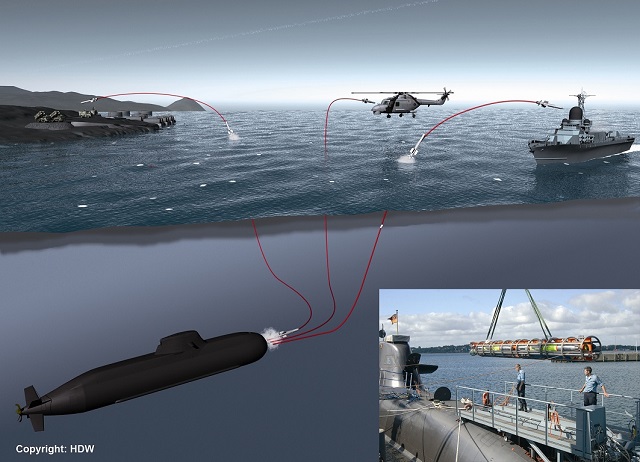 IDAS in action (Image: ThyssenKrupp Marine Systems)

Optional Equipments:

IDAS
For the Orka program, TKMS is proposing a number of optional equipment to further increase the capabilities of the Type 212A SSK. One of these optional equipment is the IDAS (Interactive Defence and Attack System for Submarines) missile. As a multi-purpose weapon system, it enables the submerged cruising submarine to engage airborne, surface and coastal targets with a high degree of precision. The uniqueness of IDAS is founded on the missile's ability to be linked to the submarine's combat operations centre via a fibre-optic cable link during the entire duration of the mission. The IDAS concept has shown its feasibility in three successful firing tests. TKMS representatives told us at MSPO 2015 that "three operational test trials are planned next year from a Type 212 submarine" (one against each type of target: airborne, surface and coastal land targets).

Composite Propellers
Another optional equipment is a new screw made of composite propellers. TKMS says these new propellers outperform CuAIMn alloy ones because composite materials feature a higher weight-related strength and stiffness. They are built thicker than conventional alloy propellers which improves cavitation performance and reduces vibration noise signatures. Their tailored blade tip flexing under load adds to the cavitation performance. Their lighter weight translates into less stress on drive trains. Finally another advantage is that each blade of the screw is individually replaceable

Solution for transition
With the planned decommissioning of the Polish Navy's four Kobben (Type 207) class submarines by the end of 2016 and of the ORP Orzel (Kilo class) in 2022, TKMS explained that Germany has offered Poland access to the German Navy 212 Submarine full scale simulator (located at the Germany Navy submarine training center in Eckernförde). In addition Germany is proposing to lease one or two German Navy Type 212A to the Polish Navy for the purpose of transition until completion of the Orka program. The TKMS representatives told us this would be a government to government negotiation.