a
Euronaval 2012 - Show Daily News
Subsea Tech exhibited its solutions for harbor and critical infrastructures underwater surveillance
Subsea Tech is a designer, manufacturer and supplier of marine and underwater intervention and instrumentation systems. At Euronaval 2012 the Marseille based company displayed solutions for diver detection, ship hull survey, bottom survey and underwater surveillance (sonar and video).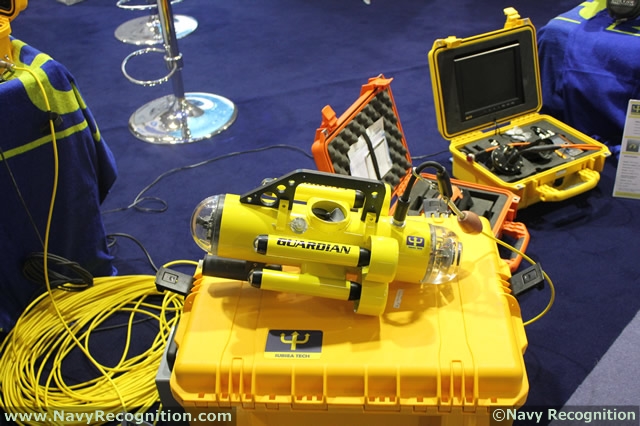 Guardian 2.1 Underwater Robot at Euronaval 2012
The underwater robot Guardian 2.1 is a high speed vehicle, which can reach 4 knots in no time, thanks to a reduced inertia and 4 powerful longitudinal thrusters. With a weight of just 10 pounds and a length of 18.5'', it is easily transportable in most remote areas.

In its standard version, it is equipped with two high definition/high sensitivity cameras, and can carry, in addition, a mini sonar (Tritech Micron DST or equivalent), a 2 functions manipulator, and many others sensors and tools thanks to its accessory plug.

The whole equipement (vehicle, control console and umbilical) is contained in one single water proof case, on wheels, with a total weight of 67 lbs.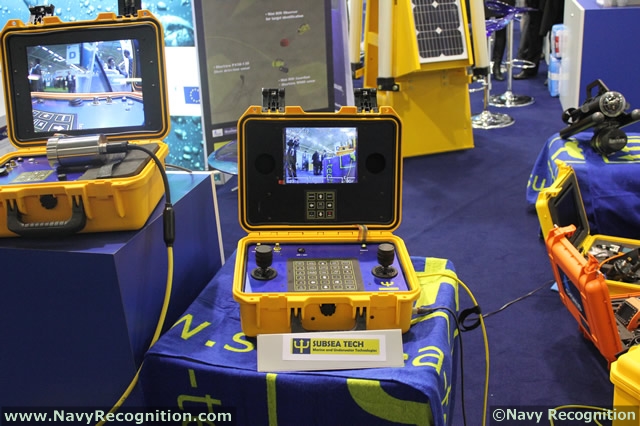 UVS100 RL underwater video system (left) and Mini ROV control console (center)
The Guardian 2.1 control console is contained in a waterproof case and includes a 8,0" LCD video display, an integrated digital recorder/reader (on digital support), 2 video output (for external display or recorder), 2 x 3 axis joysticks (navigation and camera pan & tilt) and a 30 keys soft pad for the multiple automatic or on/off functions of the system.

The underwater video system UVS100RL is a multipurpose underwater video camera, ultra portable, with the unique feature of having embedded batteries with an autonomy of up to 4 hours in standard (8 hours on demand). The UVS100RL is a fully integrated Plug&Play system allowing to perform any kind of underwater inspections whether from the surface with a telescopic pole, with a diver (grip or hat mounted) or from any fixed or moving support. The system recharges the batteries on the main supply (220VAC in standard or 110VAC on demand) and remains operable at the same time.