a
Naval Forces News - India
1st P-8I Maritime Patrol Aircraft Arrives in India, Indian Navy to receive 2 more P-8Is by end of 2013
The first Boeing P-8I long-range maritime reconnaissance and anti-submarine warfare aircraft arrived today, on schedule, at India Naval Station Rajali. The P-8I is one of eight aircraft Boeing is building for India as part of a contract awarded in 2009.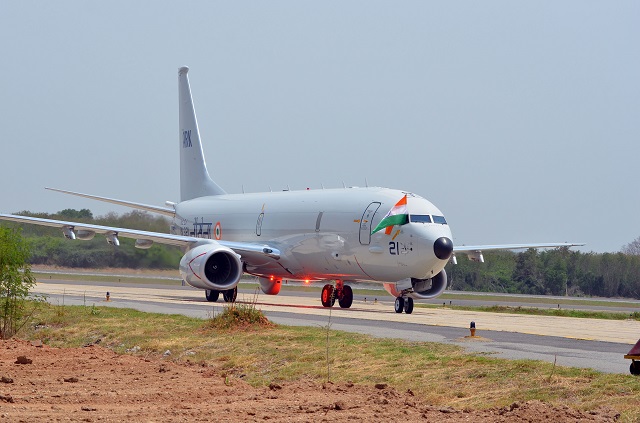 The first Boeing P-8I Maritime Patrol Aircraft Arrives in India
(Picture: Boeing)
"Boeing is proud to deliver this advanced aircraft to meet the Indian Navy's unique maritime patrol requirements," said Chris Chadwick, president of Boeing Military Aircraft. "The P-8I team, which includes our customer and Indian suppliers, has done a fantastic job working together, and we're on track to deliver the next two P-8I aircraft later this year."

Based on the Boeing Next-Generation 737 commercial airplane, the P-8I is the Indian Navy variant of the P-8A Poseidon that Boeing is developing for the U.S. Navy. The P-8I incorporates not only India-unique design features, but also India-built subsystems that are tailored to the country's maritime patrol requirements.