a
Naval Forces News - USA
USS Freedom (LCS 1) Littoral Combat Ship Makes Debut in Singapore

USS Freedom (LCS 1)
made its debut in Singapore May 14-19, participating in an international trade show and a maritime exercise with regional navies. Freedom also hosted thousands of visitors, from Singaporean citizens to senior government and military officials, during a series of ship tours.
The week began with a visit from the Chief of Naval Operations (CNO), Adm. Jonathan Greenert, May 14. Greenert, the 30th CNO, emphasized his support for the LCS platform, and spoke to media and the Freedom crew about the positive impact of the ship's maiden deployment.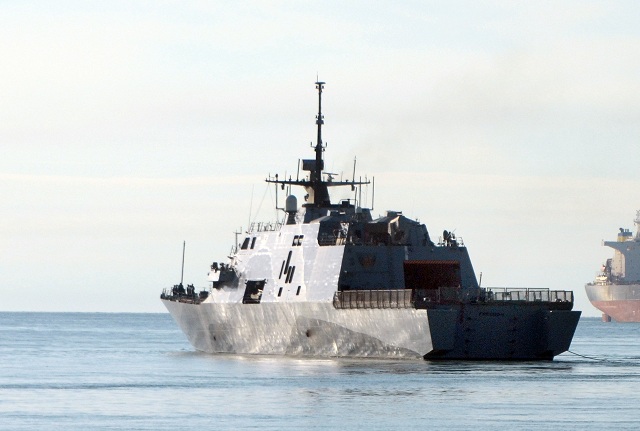 SINGAPORE (May 17, 2013) The littoral combat ship USS Freedom (LCS 1) gets underway. Freedom is underway as part of the Republic of Singapore navy's western Pacific Multi-lateral Sea Exercise after participating in the International Maritime Defense Expedition and Conference in Singapore. Freedom is on an eight-month deployment to Southeast Asia. (U.S. Navy photo by Mass Communication Specialist 1st Class Jay C. Pugh/Released)
"We had to get the littoral combat ship out here, and figure out what it's made of," said Greenert, speaking to the Freedom crew. "You guys are setting the pace for the future, and let me tell you, you all did a magnificent job. So don't underestimate what you do during this deployment and during the crew swap."
Freedom also hosted more than a dozen foreign delegations and hundreds of Sailors from foreign warships in port for Singapore's International Maritime Defense Expedition and Conference (IMDEX). On May 14 , Singapore Minister of Defence Dr Ng Eng Hen toured Freedom as well as other ships on the waterfront. On May 15, Freedom held a reception on board for more than 200 guests, including Singapore's Chief of Navy and several representatives of other international navies.
The highlight of the week was Freedom's participation in the Republic of Singapore Navy's (RSN) Western Pacific Multi-lateral Sea Exercise (WMSX). Getting underway as the Surface Action Group commander for Singaporean, Indian and Indonesian ships, Freedom provided command and control during a simulated small boat threat, a search and rescue exercise, and a wisit,
board, search and seizure (VBSS) scenario.
"We've been working hard for the past year to get this ship on deployment and successfully deploy here on time," said Freedom's commanding officer, Cmdr. Tom Wilke. "The support we had up the chain of command, the drive and determination to get us what we needed, knowing that we had a tight schedule and a mandate to deploy on time, is what made us successful."
The crew also had the opportunity to highlight key features of the ship during the two-day RSN Navy Open House May 16, 18 and 19. More than 7,000 people toured the ship, interacted with crewmembers and learned about the Freedom's systems and gear.
"I had a really good time interacting with people of different cultures this weekend," said Engineman Fireman Jennifer Ordenana. "They were very friendly, seemed very interested in this class of ship, and its technology and took lots of pictures with us. I enjoyed the energy."
Fast, agile and mission-focused, LCS platforms are designed to operate in near-shore environments and employ modular mission packages that can be configured for three separate purposes: surfaces warfare, mine countermeasures or anti-submarine warfare. Her "Gold" crew of 91 Sailors includes mission package personnel and an aviation detachment to operate an embarked MH-60 helicopter initially mans freedom.
Freedom will remain homeported in San Diego throughout this rotational deployment to Southeast Asia. Midway through Freedom's deployment, a crew-swap will be conducted with her "Blue" crew.

Source: US Navy


Link to Freedom class LCS datasheet