a
Naval Forces News - USA
ATK Delivers 100th Advanced Anti-Radiation Guided Missile (AARGM) to U.S. Navy
ATK reached a significant achievement on the path to Advanced Anti-Radiation Guided Missile (AARGM) Full Operational Capability (FOC) with delivery of the 100th AARGM to the U.S. Navy. Elected officials and U.S. Navy leaders attended a commemoration ceremony at the ATK Ridgecrest California Production facility in honor of the milestone. Attendees included 23rd Congressional District U.S. Representative Kevin McCarthy, Program Executive Officer for Unmanned Aviation and Strike Weapons RDML Mathias Winter, Naval Air Warfare Center-Weapons Division Executive Director Scott O'Neil, and other U.S. Navy senior executives and local elected officials.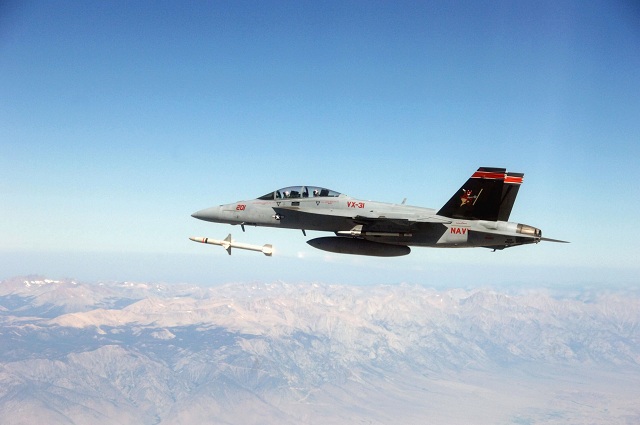 The AARGM is test fired from an F/A-18D at China Lake, Calif. in June 2012.
(U.S. Navy photo)

AARGM achieved Initial Operational Capability in July 2012 and has been in Full Rate Production since August 2012. The program is on schedule and on budget, and is planned to achieve FOC in September 2014.

"This is a very special milestone for ATK as it marks significant progress in fielding this much-needed capability for the warfighter," said Bill Kasting, vice president and general manager for ATK's Defense Electronic Systems division. "Our success would not have been possible without the strong support and steadfast dedication of the U.S. Navy, Italian Air Force and our industry partners, and we continue to focus on delivering AARGM's game-changing capabilities."
(U.S. Navy video)
AARGM is a supersonic, air-launched tactical missile system, upgrading legacy AGM-88 High Speed Anti-Radiation Missile systems with advanced capability to perform Destruction of Enemy Air Defense missions. AARGM is able to rapidly engage traditional and advanced land- and sea-based air-defense threats, as well as non-radar time-sensitive strike targets. Leveraging a digital receiver set, global positioning system/inertial navigation system guidance, digital terrain data base and the game-changing millimeter wave terminal guidance seeker, AARGM provides the most advanced system that can also provide pilots with in-cockpit, real-time electronic order of battle situational awareness against today's modern surface-to-air threats.

AARGM is a U.S. Navy and Italian Air Force international cooperative major acquisition program with the U.S. Navy as the executive agent. AARGM is currently deployed on U.S. FA-18C/D Hornet aircraft, and is being integrated for use on the U.S. Navy's EA-18G Growler and FA-18 E/F Super Hornet aircraft, as well as the Italian Air Force's Tornado ECR aircraft. The missile is also compatible with the F-35, EA-6B, allied FA-18s, and U.S. and allied F-16s.