a
Naval Industry News - France
DCNS launches Provence FREMM, third Frigate of the Aquitaine class for the French Navy
On 18 September 2013, DCNS launched FREMM Provence at its Lorient shipyard. This industrial milestone marks an important step in building the ship. It emphasizes once again the industrial dynamism of DCNS as five multimission frigates are currently being built simultaneously and are at different stages of completion.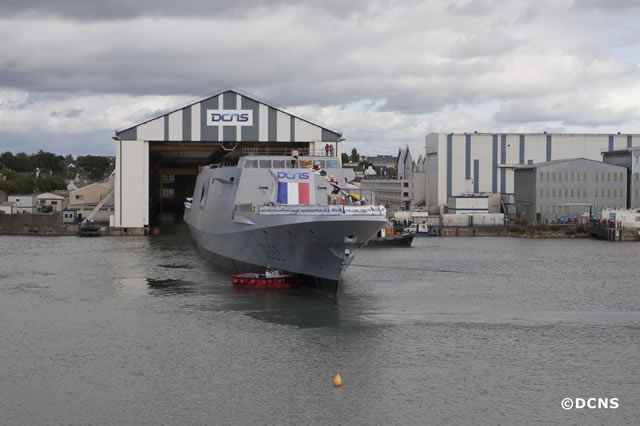 FREMM Provence is launched at DCNS Shipyard in Lorient
Over the coming months, DCNS teams and their subcontractors will continue assembling FREMM Provence, with the next major step consisting in the installation of masts hosting the main ship's sensors (radars, antennas, cameras, jammers ...).

Fourth of the FREMM series built by DCNS, the Provence saw its construction begin in December 2010. This new generation frigate will be implemented by a small crew of 108 sailors (ie less than half the previous generation frigates). The FREMM will be capable of versatile missions such as air defense, anti-surface and anti-submarine warfare.

For DCNS, the FREMM program is the construction of twelve frigates. Eleven are for the French Navy. They were ordered by the French Procurment Agency (DGA). The twelfth is conducted on behalf of the Royal Moroccan Navy.

FREMM frigates are built with DCNS as prime contractor. These are amongst the most technologically advanced and competitive ships on the market. Heavily armed, they implement the most advanced weapons systems and equipment, such as Herakles multifunction radar, Aster surface-to-air missiles, Exocet MM40 anti-ship missiles and MU 90 torpedoes.