a
Defense Industry News - USA
US Navy launches two Raytheon-made SM-3 missiles against single ballistic missile target
In a Missile Defense Agency test, the U.S. Navy launched two Raytheon Company made Standard Missile-3 Block IBs from the USS Lake Erie against a complex, separating short-range ballistic missile target. The first guided missile successfully destroyed the target using the sheer kinetic force of a massive collision in space.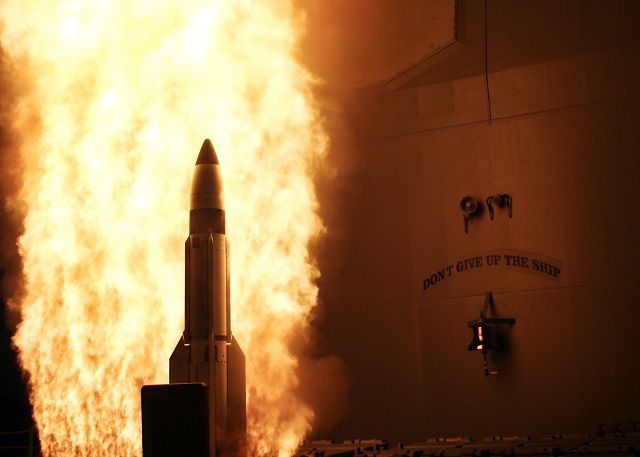 A SM-3 Launches from USS Lake Erie during a test
(File Picture: US Navy)

The SM-3 is a defensive weapon used by the U.S. and Japan to defend against short- to intermediate-range ballistic missiles.

"Confidence in the SM-3 Block IB's defensive capability continues to grow with each flight test," said Dr. Taylor Lawrence, Raytheon Missile Systems president. "When this weapon deploys in 2015, the U.S. and our allies will have a tremendously reliable, capable defensive asset on their side."

During the test, two SM-3 interceptors were launched at a single target consecutively. The first SM-3 eliminated the target. The second SM-3 was designed to test the ship weapons system's ability to launch multiple missiles at one time against a threat. An intercept for the second SM-3 was not part of the test scenario.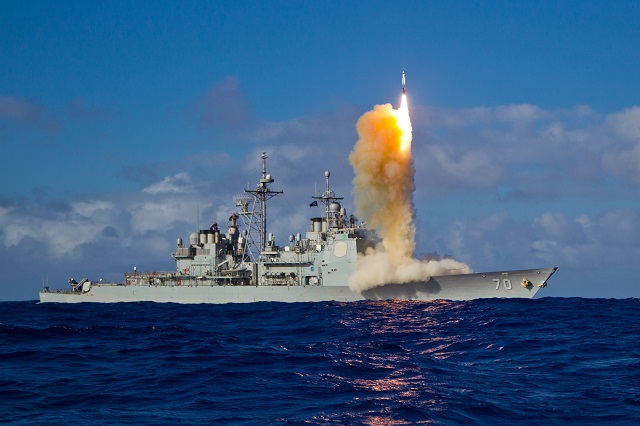 PACIFIC OCEAN (May 15, 2013) A Standard Missile-3 (SM-3) Block 1B interceptor missile is launched from the guided-missile cruiser USS Lake Erie (CG 70) during a Missile Defense Agency and U.S. Navy test in the mid-Pacific. The SM-3 Block 1B successfully intercepted a target missile that had been launched from the Pacific Missile Range Facility at Barking Sands in Kauai, Hawaii. Lake Erie detected and tracked the target with its onboard AN/SPY-1 radar. The event was the third consecutive successful intercept test of the SM-3 Block IB missile. (U.S. Navy photo/Released)

"We're gaining a tremendous amount of information about what this missile can do, and in many instances it is far surpassing design requirements," said Dr. Mitch Stevison, Raytheon Missile Systems' SM-3 program director. "The SM-3 Block IB is proving it can take on increasingly sophisticated scenarios, and that kind of confidence sets the stage for a production decision."

The test was the 25th successful flight test for the SM-3 program and the fourth back-to-back successful test of the next-generation SM-3 Block IB variant. Based on the highly successful SM-3 Block IA currently deployed around the world today, the SM-3 Block IB incorporates an enhanced two-color infrared seeker and the Throttleable Divert and Attitude Control System, a mechanism that propels the missile toward incoming targets.