a
DEFEXPO 2014 Daily News - CNIM LCAT
French Defense Company CNIM will present its range of Landing Craft at DEFEXPO 2014
The
CNIM Group
designs and produces turnkey industrial solutions with high technological content, it offers unique research / expertise services. It anticipates future challenges while developing its skills and key technologies. It imagines in order to open up to new markets and acts while combining the desire for growth and search for performances, so as to offer ever more innovative and economic solutions that respect the environment. It has control over the processes that relate to its activities, it builds the essential equipment and develops its own technologies. The CNIM Group has four characteristics that are exemplary of an Intermediate Sized Company (ISC): continuity, creativity, know-how and responsiveness.
Listed on a public regulated market, Euronext Paris, CNIM is based on a stable family shareholding that is the guarantor of its development. The Chairman of the Management Board is Mr. N. Dmitrieff. Its main areas of activity are: The environment; Mechanical Products and Systems with high technological content for Defence, Nuclear, Industry and Life sciences; Energy (thermal and solar).
The CNIM Group targets technological excellence in each of its activities by means of controlling all of the technologies and high level industrial resources, and through its ability to launch innovative products thanks to the creativity of its teams. Thanks to its achievements, and in each of the countries where it is established, the Group is recognized as an essential European actor in its activity domains, whether under its own name or that of its subsidiaries.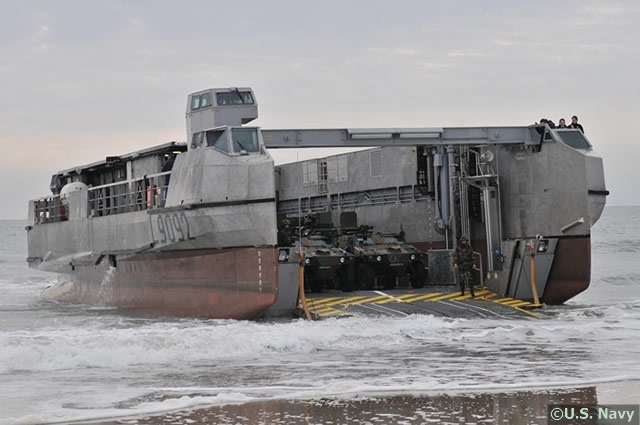 CNIM's LCAT was chosen by the French Navy in 2009
Equipments / Products / Services
»
L-CAT® is a fast landing craft
dockable adapted to modern LPD/LHD. With is patented lift platform, it is the only vessel able to accomplish amphibious operation with high payload in rough seas or shallow water, Chosen by the French Navy in 2009, L-CAT® is a new generation of expeditionary transport system for military purposes, humanitarian operations, and civilian logistics support.
» L-Cat® S : a vessel with increased payload (two main battle tanks) keeping same extraordinary performances
of maneuverability as the L-CAT®.
» Multipurpose Patrol Craft: designed for all the tasks of law enforcement at sea. It's a versatile ship, a patrol
ship with cargo and landing capabilities
» L-Cat 44 : a Multi Purpose Landing Catamaran optimized for shore to shore operations with a high payload.
With its patented lift platform, it is the only one vessel able to accomplish amphibious operations with high
payload in rough seas or shallow water.
Visit CNIM at hall 12.2.2